[Back to Top]
I have noticed that I forgot to put G1 as a sub-header for the first chapter. I have now fixed it. And now for your viewing pleasure, I bring you chapter 2.
...which is somehow slightly more insane than chapter 1.
Starting with this chapter I also plan to put the banner at the top of each post. Just to make sure that I'm in the right place.
Project SOLO


(or, DNA Gets High as he Explores the Sky)

Chapter 2 – In Which I Shoot the Messenger
(G2-1: The New Guild Recruits)
I was surprised to see that our destination wasn't that far off. The sand gave way to dirt, a steadily ascending path that made its way further and further up. At the halfway point, it gave way to a crossroads, which I was eager to discover more at some point in time, but right now, 'food and shelter' was the only thing on my mind, so first and foremost we had to deal with that.
I was a bit skeptical about how this exploration team thing would go down. Granted, they probably have a system for that, but I had this kneejerk aversion to the whole idea. I really shouldn't, though. This is an entirely new world for us both, and if we're going to get anywhere, we're going to have to work for it. And a team is a good form of work, so the benefits would outweigh the costs in this case.
Plus...I had two other things on my mind as well doing this: Rayne, and her Relic Fragment. I know how much she loves adventure, and this would be a perfect avenue for her to do so. On top of which, she loves writing. All the places we'll go will only serve to give her a plethora of ideas for stories later on...or just funny occurrences while exploring. And that Relic Fragment... If that psychoanalyst aurora gave that to her, it's probably important for something. The pattern is probably a big hint.
What benefit would I stand to gain from all this? That is simple: First, I would have shelter and a means to continue living here; second, I would be able to protect Rayne. I really don't need any other reason; that's enough for me. And it's always better to have a friend nearby (or sibling in this case) than to go it alone. It is settled – I am fine with this.
Only a few minutes of walking elapse before we're facing the Wigglytuff Guild's front door. The torches are still burning bright, the totem poles are still upright, and the face of Wigglytuff atop the hut entrance is imposing and lifeless as usual. The gate to get in is currently closed, so I assumed most business was done for the day. That left the question of how to get in, since I didn't see any knocker or doorbell...
"So, this is it?" I asked Rayne, looking up at the image of Wigglytuff's head. The longer I stared, the creepier it got.
"Yeah, this is the place."
"Looks like it's built into the side of a cliff. Convenient. That would also explain the spiked wooden fence behind it. A bunch of crisscrossing wooden spires, lying next to each other in a single unbroken row..."
"Hey, doesn't that bit of wood have a bit of red stuff on the tip? Looks like it's been there a while..."
"I'm trying not to think of how it got there. Say, Rayne, how did you get their attention the last time you came here?"
"Well, I stepped forward onto this grate, and..."
"Wait, the grate? That one with wooden bars? What kind of..."
I stomped forward a few paces until I was kneeling by the edge of the grate, and stared straight down into it. It looked like it went down about 20 feet, and there was nothing but dirt and various plant matter strewn about on the way down. I think I saw someone at the bottom, but I wasn't sure as it was small and far away.
"Hey! Who's down there?" I called down with a somewhat angry shout.
"P-P-P-Pokémon detected...?" came a response. It was a small soft voice, quivering with fear, as if not used to being asked questions.
"Stand up straight, soldier!" I barked. "You're the doorkeeper, yes?"
"Y-Y-Yes..."
"And this is the Wigglytuff Guild, yes?"
"Y-Y-Yes..."
At this point, I could tell whoever was down there was probably going to collapse from fear...or throw up. Plus, whoever it was seemed like a well-meaning yet timid individual, so I softened my tone a bit.
"My friend and I are looking for a place to stay. I understand you guys are for exploration teams, but if you have rooms available, we'll do what it takes."
"Um..."
"Please. I may not sound it, but I'm a little desperate and don't know where to go."
"What's the matter?!" boomed another, much louder voice, also coming from below the grate, though exactly where I couldn't ascertain. "Sentry! Sentry?! What's wrong sentry Diglett?"
"Umm... Er..."
"Checking the footprints of visiting Pokémon... That's your job, ISN'T it, Diglett?"
"B-but...I'm not seeing any footprints..."
"What?! NO footprints?! Then who are you talking to?!"
"Excuse me," I interjected, "but I assume you're also a gatekeeper? Have you heard anything we've been talking about?"
"Something about a place to stay, right?"
"That's correct."
"We need to identify who comes to visit us! So stand up THERE on the grate and—"
"One Riolu, one Vulpix. That's all."
"Can you prove that?"
"Rayne, come over here, if you would."
"Sure," she responded, "what do you need me to do?"
"Just sit at the edge of the grate, lean your head forward, and look straight down, just as I am." She did so without complaint. "Now...it's Diglett, right?"
"Y-Yes..." Back to the Diglett with the quivering voice.
"Can you see our faces? Can you confirm we are who I said we are?"
"Umm..." A bit of a pause. No doubt he was scrutinizing our faces for a bit, planning to report back to his much louder partner. There was about 15 seconds of silence before he spoke. "Well, that's definitely a Vulpix, and that's maybe a Riolu..."
"Maybe? Ouch."
"What?! MAYBE?!" The loud one again. I think they're going to have a falling out.
"B-but... It's not a Pokémon that you normally see around here..."
"UGH! That's pretty crummy! Didn't you check their footprints?"
"They didn't show their footprints... They showed their faces... I know what a Vulpix face looks like, and a blue face with red eyes, black highlights, and floppy dog-ears I'm pretty sure is a Riolu..."
There was a pause as he waited for the loud one to answer. While I was waiting for them, I mumbled to myself, "Floppy dog-ears?" I grabbed the ends of my ears each with one hand, and held them out. "Are they really that floppy?" I let go and both ears swung back, each one hitting me in an eye. I lost my vision for about a half-second as Rayne giggled at the antic. "...Apparently they are."
"...Sorry to make you WAIT," the loud one spoke shortly thereafter. "Well, it's TRUE that you don't see any Riolu in these parts... But you don't SEEM to be bad..." A slight pause again, as if thinking. "OK, good enough! ENTER!"
At those words, the grate at the entrance to the hut lifted, granting us passage. Yes! We were granted permission to enter. Now to find whoever the head honcho was and ask about living here, or something like that. I walked around the grate until I was standing by the entrance.
"All right, that's the first step," I said, crossing my arms and feeling somewhat pleased about myself. "Now let's find whoever's in charge. Hopefully he'll be understanding."
"Hey DNA, I'm wondering," Rayne asked, "they usually use footprints to determine who's visiting them. Why didn't you just step on the grate so he could tell?"
"I'm not really fond of people staring at me from directly below." The pause lasted for about one second before the revelation registered as a decidedly loud gasp and a paw placed over her mouth. "Sometimes Pokémon can be so uncivilized. Now let's go inside."
Before us there's a wooden ladder that leads down. The rungs are large and easy to grab, thankfully, so getting down shouldn't be too hard. I start climbing down the ladder myself going first, until halfway I realize Rayne's not following me. She's still at the top, staring down.
"You're afraid you're going to fall, aren't you?" I ask.
"Yeah. I've never had to climb down a ladder on all fours before."
"Tell you what." I finish descending the ladder and stand at its base. "I'll stand here and catch you if you fall. You just climb down nice and easy."
"Promise? You're not going to pull your arms away at the last second, are you?"
"Maybe." A mischievous smile came over my face.
Rayne sighed, smiled, and began climbing down the ladder. Granted, she had a harder time than I did as quadruped hind legs aren't quite suited to that sort of thing, but it wasn't exactly strenuous or impossible. My arms were still held out in front of me just in case she took a rather nasty dive. However, she made the climb without incident, and as soon as she touched down on the lower floor, I quickly moved my arms behind my back.
"What was that for?" she asked.
"I pulled my arms away at the last second."
This remark earned me a giggle and a light jab to the arm.
The room here below was surprisingly spacious. It appeared to be a main meeting room of sorts, elliptical in shape, and the walls look to be made of tightly packed dirt and rocks. Not surprising, given how this place is within a cliff face. There's a lot of Pokémon in here talking, crowded around one another, looking at the two bulletin boards I notice stuck to the wall...
"Excuse me!"
I don't recognize the voice, so it's probably someone here. I dart my eyes around, rotating as I do so, to find the source of the voice. I then notice this Chatot that I didn't see in the room before, who climbed up from the floor below. That, and it's the only other Pokémon making eye contact with me.
"You meant us, right?" I ask calmly.
"It was you two that just came in, right?"
"Yes, that's us. A pleasure to meet you, sir." I bow slightly, as does Rayne.
"I'm Chatot!" he chirps. "I'm the Pokémon in the know around these parts! I am Guildmaster Wigglytuff's right-hand Pokémon!"
"Check it out!" Rayne whispers to me. "We're talking with Riker!"
"Now, shoo! Leave the premises! We have no time for salespeople or silly surveys. Off you go, if you please!"
"Hold it!" I shout, pointing my finger forward almost like a reflex. "That, my good sir, is NOT why we're here!"
Without thinking, I just blurted out "Hold it!" And I yelled it at the top of my lungs, finger outstretched, ready to take on my opponent!
"We're actually just looking for a place to stay, honestly. I know you only deal with exploration teams, so if we have to do that to stay here, then...we'll do that."
"W-What?! Exploration team!?" the Chatot exclaimed, taken aback. I'm not sure if it was because of the nature of my request or if I became Phoenix Wright for three seconds. Deep in thought, he turned around and began mumbling to himself.
"It's rare to see a newcomer like this want to apprentice at the guild...especially given how hard our training is! Surely the steady stream of Pokémon that run away from our rigorous training proves how true that is!"
"Um..." Rayne chimed in. "We can hear you. That hard, huh?"
"What?!" Chatot responded in shock, turning back around to face us. "Well...no! No, no, no! It's not true in the slightest! Our training program for exploration teams is as easy as can be!" As he said this he was fluttering his wings like mad, as if caught out in his own thoughts. Technically, he was. I don't think he was expecting us to have good hearing...or for him not to use his indoor voice.
"OK!" he continued, seemingly back to normal. "Let's get you set up. Follow me, please!"
Chatot then hopped off towards the lower staircase rather quickly and enthusiastically, not even noticing we hadn't started to follow him. And, in truth, we weren't going to, not just yet. When he noticed, he turned around and beckoned again, adding "Quickly please!" to his request.
"Do you mind if we think it over for a bit?" I asked him. Not really waiting for a response, Rayne and I did the closest thing to a team huddle as you can do with just two people. It mostly just amounted to us lowering our heads next to each other and speaking in whispers.
"What do you think, sis?"
"I'm not sure, bro. I mean, yes it's a place to stay, but this honestly sounds like a bit of a bumpy ride. If they have this training program that's as hard as he says, it'll probably involve waking up at the crack of dawn every day...and you know how I am about waking up early."
"Yeah...you don't."
"What do you think, bro?"
"Well, beggars can't be choosers. While I would prefer an as-you-please approach, there's no guarantee there's any other place open. Plus, an exploration team is a fairly profitable – and very exciting – line of work. You like visiting new places for story ideas, right? This should be perfect for you."
"That's true! I'm just not exactly sure what to expect."
"Tell you what. Let's give it...a week or so. During that time we can look around to see if there are other places to stay if you don't like this. And hey, it might not be as big and scary as the parrot is making it out to be. The pros are far outweighing the cons. If anything goes wrong, I'll take full responsibility for it, so you'll be fine. Sound fair?"
"Well, when you put it like that..."
"Are you just going to go get into trouble so I'll get punished for it?"
"Maybe." A mischievous smile crept across her face. It broke out into a laugh when I gave her a light jab to the arm. With our huddle done, we turned back to the Chatot.
"All right, we've decided. Lead the way," I declared, and Chatot was only too happy to do so. He led us down another flight of steps (Rayne didn't fall off this ladder either) and in front of a closed door. Right next to this door is a window that gives a phenomenal view of the outside. I look out it for a moment and see the cliff face extending onward, the ocean below, and the sun an orb of bright yellow hanging in the sky. This was one long sunset.
"I assume you will be joining as an exploration team?" Chatot asked us.
"If that's what it takes to get a room here, sir," I responded matter-of-factly. "If you are willing to accommodate us, then we are willing to accommodate you."
"Very well." He gestured to the closed door before us. "This is Guildmaster Wigglytuff's chamber. On no account... I repeat, on no account should you be discourteous to our Guildmaster."
"Fair enough. Understood!"
Chatot knocked on the door, and chirped. "Guildmaster! It's Chatot! I'm coming in!" He opens the door, very slowly, and after entering motions for us to follow, which we do. The Guildmaster's room looks very much like an office. There are various posters and pictures strewn about the walls, and the windows offer an even better view than the ones in the room outside. A bright yellow swivel chair is at the far end of the room, and its back end is facing us, so we can't see whoever's in it. I do notice two pointy pink ears poking up over the top, though...
"Guildmaster!" Chatot announces, hopping on one arm of the chair. It's so large it seems to dwarf him, and he's about the same height as us. Whoever's in the chair must be huge. "Guildmaster! I present to you two Pokémon who wish to join our guild as apprentices."
That wasn't exactly what I remember agreeing to, but if it'll get his attention...
There's an awkward silence as there's absolutely no response. Chatot looks a bit unnerved too, like he was expecting something but wasn't getting it. "Guildmaster...um...Guildmaster?"
Quite suddenly, the bright yellow swivel chair does a half-rotation almost instantly, as its inhabitant turns to face us. Yep, it's definitely a Wigglytuff, and in comparison to us he's definitely a really big guy.
Man, is he fat.
"Hiya!" came its exclamation, which had a slight hint of a British accent. "I'm Guildmaster Finch! You want to form an exploration team? Then, let's go for it!" He was speaking extremely fast and with such enthusiasm it was very hard to follow what he said.
"Wow, that was fast," I thought aloud. "Wasn't quite expecting that. So, you say your name is Guildmaster Finch? It's a pleasure to meet you, sir, I'm DN—" I stopped myself mid-bow as I realized what I just said. "Wait,
Finch
? You can't be... No, not
that
Finch..."
As I said this, the Wigglytuff's eyes became bigger (or at least appeared to) and the corners of his mouth began to turn upwards more and more, giving his smile the appearance of a U-shape. If I had to express it with symbols, it would look like an O u O face.
"Finch!!" I yelled near the top of my lungs. "What the hell are YOU doing here!?"
"Being Guildmaster, what else?" Finch responded. "It's so very much FUN!" He was giggling like a madman (he is a madman, but that's beside the point), while Chatot was sitting on the chair, just watching this whole exchange take place, looking like he was about to, or just had, a heart attack.
"This is beginning to concern me. If you're here, then who else is here that I know?"
"I can safely say that no one already in the guild is anyone you know."
"Ah, good. That would about drive me insane."
"Good! Now, back to the fun of teams! First we must register your exploration team's name! So tell me your team's name?"
"Before I do any of this... Is this what we'll have to do to get a room here? That's my primary goal right now. I'm willing to jump through hoops if necessary, but I want a guarantee that this will be a place for us to stay."
"You have my word as a tea-drinking gentleman and aspiring astrophysicist."
"When you put it that way, it's really hard to argue," Rayne commented. "C'mon DNA! He's a tea-drinking gentleman and aspiring astrophysicist too! And he's British! That sounds really cool! We should sign up!"
I am now more inclined to believe him, because I have replaced him with a picture of Spiderman.
"All right," I decide. "Hit me."
"I can't," Finch answers. "My arms are too short."
There's a small pause before I audibly facepalm and say "I meant to sign us up."
"Do I look like an insurance salesman to you?"
"Now you're just doing this on purpose."
"I'm not a dolphin either."
"AAAAAAAAAAAAAAAAAAAAAAGH"
"To be honest, we didn't actually think of a name," Rayne interjected. This distracted me enough so that I stopped screaming. "We need a cool name, something unique, something special, something that shows that our name was the product of many hours of careful thought..."
She stroked her chin, as if trying to think of a name. The silence became so thick it could probably be cut with a knife, and spread onto a sandwich, as one would do with very delicious mustard. Then, suddenly, she broke the silence, as if to take that proverbial mustard out of silence and on to the sound of sandwich bread, as much as sandwich bread can make noise.
"DNA! You pick!"
Dangit Rayne, look what you did to the mustard.
"Me!? I'm worse than you at naming things!"
"Are not! C'mon, pick something!"
"But I'll probably just think of something strange and weird that will turn into a giant inside joke!"
"You can at least try! I'm too lazy to be serious; you know that!"
"It's sad that you managed to convince me. That actually made sense." I think for a while. It only took me a few seconds, because that's how long it takes the first thing to pop into mind, regardless of whether it's good or not. "How about SOLO?"
"SOLO? Does that stand for something?"
"Stoners Only Live Once. Look, we were both psychoanalyzed by a rainbow-colored aurora in a dreamlike state. I really don't know how to explain that unless we were both somehow drugged."
"That...makes sense. A lot of sense, actually. Team SOLO sounds good to me!"
"You're...you're joking. You actually think that's a good idea!?"
"Yep! I like it! It's a good name! It's perfect for us! I trusted you to come up with a cool and unique name, and you delivered stupendously! And think about it – how can you be a team and solo at the same time? It's crazy! In other words, it's right up our alley!"
For those curious as to the contents of this conversation, and the meaning thereof – yes, Rayne and I did actually have this conversation. It went almost exactly like you see it, too, though not quite in the same order.
"I...um..." I was totally at a loss for words. I wasn't expecting that to go as well as it did. I wasn't expecting that to go well at all, actually. Clearing my throat and attempting to regain my composure, I turned to Guildmaster Finch. "Team SOLO, please."
"All settled, then! I'll register your team as SOLO," Finch responded. He ran behind his desk and took out a laptop, and began to furiously tap the keys on it, typing in all the necessary information. It was somewhat humorous to watch, because at times he would pause looking around for the right key, others he would go really fast, and occasionally he would just look out the window and completely forget what he was doing for about five seconds.
"Um...are you all right over there?" I asked. "If it's a trouble to type, wouldn't you rather have someone with fingers type for you?" I wiggled my fingers and thumbs in front of me to emphasize my point.
"No! Hush! This is super secret secret squirrel stuff! Registering...Registering..."
"How do squirrels factor into—never mind, I don't want to know."
"All registered!" He folded his laptop up and put it away, grabbed a nearby box that was about a foot square, and with a yell of "YOOM-TAH!" leapt over his desk and landed right in front of us. Chatot was still panicking, though breathing easier than he was before. I wondered if the poor chap was going to be all right. Maybe he asked us to be courteous so he wouldn't be constantly freaking out.
"Congratulations!" Finch exclaimed. "From now on, you're an official exploration team! I present you with this box in commemoration!" He took the box he'd been holding earlier and set it down in front of us. It seemed to be made of some sort of cardboard. The lid was very easily removable, and the box itself looked really old, as if it had been re-used over and over for the same thing. On the side of the box, the words 'Pokémon Exploration Team Kit' were written.
"A Pokémon Exploration Team Kit?" Rayne asked, reading the words on the box.
"Yup," Finch answered. "It's what every exploration team needs. Quick, open it up."
We did so, removing the box's lid. There were quite a few items inside, but rather than leaving them inside the box, I set out each item in turn separately, so I could get a good look at everything. Among the items were a badge, a map, a satchel, two small books, and what looked like a rolled-up poster.
"Wow, this is a lot of stuff," I noted, scrutinizing everything. I went first to examine the little badge. It had a Poke Ball pattern in the middle with a pink center, a small bit on the top, and two wings on its sides, presumably for decoration. "This is the teleporter, right?"
"Yes! Teleporters are fun! You just press it and BAM you're back here at the guild! Isn't it magical? But it only works if you finish a job, if you reach the end of a dungeon, or if you're in big trouble – otherwise it won't work."
"And how does this teleporter know that?"
"We'll be watching you."
"Wow, it's almost like Big Brother. Or Star Trek."
I hold the badge in my hand for a bit, examining it and feeling its weight. With this, I thought, I could make something of myself. I would be a somebody. I would be...a hero.
/me flex
"Um, I think there's something wrong with this map," Rayne said, who had gotten a hold of the map and opened it. "It's blank."
"Ah, the Wonder Map!" Finch explained. "Wonder Maps are magical. They fill themselves in once you travel off to new places! We're not sure the secret behind it all, but legend says a wizard did it!"
"The more I hear, the more the SOLO moniker makes sense."
"These books appear to be blank," I stated, flipping through their pages. They were very simple things, two spiral-bound books held together with leather and knots. The pages turned with a remarkable smoothness, though, that surprised me quite a bit. "Do these automatically write things in them too, Finch?"
"No, they're personal journals. Write whatever you want in them! Records of your adventures, details of places you visit, pranks you plan to pull on Chatot... All of the above, really!"
"I like the sound of that last one."
"I don't!" Chatot chirped.
"Hey, DNA, you might want to take a look at this poster," Rayne called to me. She had unrolled the poster and was looking at it presently. It was four feet long and half as tall, made to be hung on a wall. I walked on over to take a look at it myself, and was quite surprised. It had a black-and-white motif with a picture of an angry Wigglytuff and 10 rules listed down the right-hand side. It wasn't the rules that were so striking; it was the image of the Wigglytuff itself.
"This, uh...this is something, isn't it."
"Fair warning, every morning you'll be asked to recite the first three with the rest of the apprentices," Chatot announced. "You'd do your best to remember them!"
Wow, it really IS like Big Brother.
"Then that just leaves the satchel," I said. "It's not too big but it's better than nothing."
"That's the Treasure Bag!" Finch explained. "Your successes as an exploration team can lead to bigger and bigger space for your Treasure Bag. It's a very wonderful bag! Have a peek inside it."
I did so, and was pleasantly surprised. There wasn't much in there, but what was in there was...well, I'll just explain it for you and you can guess my reaction. The first thing I saw was a small pink scarf, with small letters spelling out 'Defense Scarf' along the hem. The next item was something I'd seen before...
"Finch," I asked with a pause, taking out the item and holding it up. "Where did you get this?"
"That's...a Cobalt Bow, isn't it? That's strange. The bows are standard for all new teams, but...they're always white. I even checked that very bag this morning, and it was white."
This was incredibly strange. This was the exact same bow that the aurora had me touch to give it a color. I could even see on the bow itself small ruffles from where I touched it, left in the same pattern. Without a doubt, this was the same – not even a replica; it was the genuine article. What was going on here? Did Finch somehow know about this? Did he know the aurora? I wouldn't put it past him, given how random he is, but I had to know, so I asked him some questions.
"What do you normally put in these kits?"
"Just what you see before you. As throw-ins, the Treasure Bags have one Defense Scarf and one White Bow, but that's it..."
"Well, I think someone's been inside this box, because this bag has even more stuff in it... You're not just being nice to me, are you?"
I didn't get an answer as I was rummaging through the satchel, which didn't instill me with any confidence at all. I began to worry about what I might find there, but fortunately it wasn't anything bad. There were six more items and I took them out one by one – two of them were hats, one looked like a beekeeper's hat while the other was more stylized, like a Panama hat that tapered to a point in the front. The other four were two sets of clothes, shirt and shorts, looking very similar to what a jungle explorer might wear. They had fancy pockets, light fabric, exactly what you might imagine. And, of course, they were all a beige or brown color.
"Yes!!" I yelled with excitement. "Now we don't have to be uncivilized!! ...Wait a bit. Finch, did you put these here? Or Chatot? Either of you?"
"No, I've never seen those before in my life."
"Nor I!"
"Hmm, strange. Stranger still is that they seem to be a perfect size for Rayne and I. Two matching outfits, a color-changing bow, a box that hasn't been tampered with... I'm getting a very strange feeling from all this."
"Perhaps someone's looking out for you two!"
The only thing I could think of was that psychoanalyst aurora, but it wouldn't be nice enough to custom-make us clothes, would it? Even now, was it still reading my mind? What was the motive for its niceness? Were the clothes secretly poisoned so that if we put them on we'd eventually die in our sleep? Wait, it said it needed help with something. Poisoning would not help. I packed up all of the items in the box, as neatly as I had found them, to rearrange and use later.
"Thank you very much, Guildmaster Finch. We shall do our best to prove ourselves."
"Yup. But you're only apprenticing right now. So do your best...to train! Chatot, please show them to where they'll be staying."
The parrot then escorted us out of the guildmaster's office, back into the lower hallway, and off to an eastern corridor. His walk, or rather his hop, was consistent and rhythmic, not deviating for even a fraction of a second. To be expected, honestly. He wasn't exactly fast; I was walking not far behind him, carrying the box in my arms, but even with that I was still moving about the same speed as he was.
The corridor was wide enough for three to walk abreast, so while it wasn't spacious, neither was it constricting. It split off into two other rooms in the middle, presumably where other apprentices would stay. Chatot went all the way to the end of the corridor, whether another room awaited – undoubtedly ours.
It was small, yet quaint. It was circular in shape, with a layer of decorative rocks bordering it on the edges. A single round window had a view of the ocean below. As far as furnishings were concerned, there were a few pegs mounted on the wall to store various items (I'd be hanging the satchel there for sure), a long rectangular mirror off to the side for preening, and two round straw beds lay in the center of the room. It's not much, but it's a place to live, and that's fine by me.
"This is your room!" Chatot chirped. "You will live here while you work for us."
"The apprenticeship and such, right?" I ask. "I assume you'll be telling us more about that tomorrow?"
"Yes. Things will start getting busy for you tomorrow! So rise early and start living up to our code!"
"The code? Oh, you mean the poster. Yeah, I should probably hang that somewhere." I inwardly think of how creepy the poster looks.
"Don't stay up late. Get to sleep early tonight! That is all."
With that, he left the room, allowing us to get ready for sleep and prepare for the day ahead. I think it's a perfect opportunity to look through the box and sort out all the various goodies we were given. Let's see...a badge, a satchel, a map, a poster, two journals, two scarves, and two sets of clothes. I don't think I missed anything.
I make a beeline for what I think is the most immediate concern – I grab the clothes and stand in front of the mirror so I don't screw up. The shirt apparently buttons up and has about a jillion pockets, and the shorts are fairly self-explanatory and have deceptively large pockets. The hat's also a nice touch; I feel really swanky after putting the get-up on. This will make me look like a genuine explorer-type person. I look over the outfit and everything looks fine, but it looks and feels weird to have the tail pop out of the back of the shorts like that. I also take the badge and pin it to the shirt on the left lapel.
"Huh, not bad!" I remark out loud. "If I didn't know any better, I'd think I was pretty cool! Rayne, how are you doing with yours?" I turn around to see Rayne sitting on the ground, with the shirt on her head, the shorts hanging limp on her front legs, and the hat using her tails like a coat rack. I clutch my chest and start laughing like crazy.
"Little help?" she asks, her voice muffled by the shirt.
"Sure, sure, just...that was hilarious. I wish I had a camera or I'd take a photo of this."
"I think my head is stuck."
"All right," I walk on over. "First of all, you're supposed to button up the shirt, not pull it over your head." I start undoing all the buttons, and when I'm done, she suddenly shuts her eyes tight.
"The light! It
burns
!!" she yells.
"Oh, stop being melodramatic," I reply with a small smile. "Shorts are pretty easy – just button the shirt up first. You go do that while I figure out how to hang this poster."
I turn around and look for a good wall to hang it on. This is problematic since the room is technically round. I could mentally divide it into three quadrants with my brain, but that wouldn't...wait, why not just put it in the middle, facing the hallway? That way I won't have to do math to figure out the proper angle. Thankfully, the poster came with some pins that I use to affix it to the wall. It looks good, although it looks like it's looming over my head and I swear the eyes are following me around the room. By the time I'm done, Rayne has – somehow – put the outfit on without a hitch.
"Wow, you look nice. I was expecting you to screw up at least two more times, possibly involving putting your shirt on upside-down, and then on your hind legs, before getting it right."
"I actually did both of those, but I figured you'd be proud of me if I did it by myself without having to ask for help again."
"...I think you need to work a little more on using those thumbs of yours." A snicker escaped me.
"So, I have to say the first three at the meeting tomorrow? It's kinda hard to concentrate, I think the poster is staring at me."
"It just looks like that because it's dark outside and the moonlight's making weird shapes. For example, it just looked like the poster blinked."
"That's not any less creepy."
"...you're right. Either way, you need to go to sleep now. If we're getting up early, you need to get to sleep as early as possible."
"What about you?"
"I need to do something before I forget, then I'll go to sleep as well." I reached into the box and pulled out one of the two journals we'd been given. "You like stories, right?"
"Of course I do, silly."
"I want to record all of what we do in this book. That way, later down the line, we can look back and recount all of the things we did – all the triumphs, all the failures, and especially all the funny moments."
"You're going to write down that I couldn't figure out how to dress myself, aren't you?"
"Maybe." There's that smile again. "Sleep well, sis; see you in the morning."
"You too, bro. Just make sure I don't have to wake you up – that would be a total inversion of the natural order! G'night."
With that she was out like a light, or so I'd like to think. I took the pencil that came with the notebook and started feverishly writing words down. Every detail, every action, every moment, every word...I scribbled it down in this book. This book would be our legacy, a trip through a world that, although I hated it, called me to a purpose, and in so doing I would protect my closest friend. I intended to make this record last forever, and keep it for us and future generations to read and marvel.
To whoever reads this book, know that I, DNA, together with my sister Rayne, will challenge everything this world has to offer and travel to the ends of the earth, for the sake of adventure, treasure, creative inspiration, and history.
And know that you are reading through the many adventures of Team SOLO.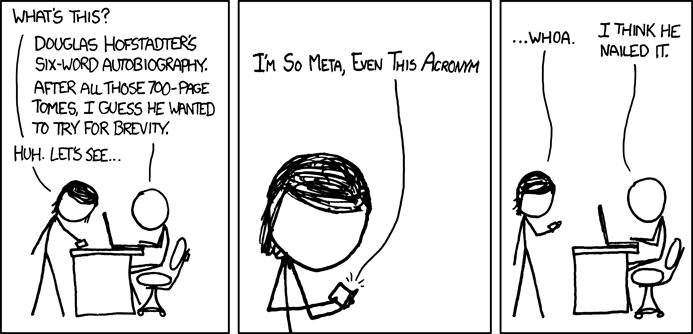 Not quite as meta as this, but it's close.