Absolutely nothing special, just thought I'd try spriting for myself since I thought it looked cool/interesting.
I'm using ms paint for all of my work. I personally made everything you see here, if something looks similar to one of somebody elses I appologize coincidences happen. Still iffy on how to make transparent so bare with me on that...
Here's a Vulpix with Swablu colors.

Lucy as a swimmer
Bulbasaur/Sandshrew fusion
Absol/Persian fusion
Pinser/Heracross fusion
Arbok/Seviper fusion (overdone I'm sure)
Gardevoir themed lady
A good friend of mine, I used Elesa and A school teacher for what I didn't free-hand.
A really good friend of mine in her 7up sweatshirt. I free-handed much of this so some things may be off.
Xatu demon/spirit thing. Used Houndoom's tail and Onix's horn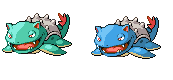 Venusaur/Lapras fusion with a Feraligatr's Tail. I couldn't decide which color scheme looked best so here's both.

My second attempt at myself
A Steel/electric multi-fusion. Basicly a mobile armory.
Beartic/Ursaring fusion
Nidoqueen/Vileplume/Meganium fusion
All criticism/comments are welcome.
_________________
SoulSilver: Friend Code- 1549 4691 2103
White2: Friend Code- 2366 8235 3267
X: Friend Code- 4313 0591 6738
Time Zone- -5 GMT
Check out my Trade Thread:
Fallen's Trade Center Gen4 and Gen5
I sprite a little on my free time, check it out:
Fallen's Art Gallery