"Sweep the leg! Put him in a body bag!" haha! Check it out! A NEW Generation of the Karate Kid! I'm a huge fan of the original trilogy and the "Next Karate Kid" was aight. The second one I'd just watch to see the monks go zen bowling. haha! What are you thoughts about the new movie?
My opinion... they went through an extreme change. They're taking it to the origin of martial arts, with Jackie Chan taking the place of new karate master, and an African American getting punked by some Chinese kids. It's not even Karate anymore (IMO). haha! The trailer shows the kid being trained in kung fu, much like the OLD OLD OLD movies Jackie Chan use to be in (example: the FIRST "Drunken Master" movie). I see that the producers are trying to mix the American Culture with the Chinese Culture. At the end of the trailer, it shows a small pun about catching a fly with chop sticks. I thought that was hilarious. I think this movie is borderline good. On the plus side, ALL Jackie Chan movies have bloopers at the end. If the movie is a flop, we can always enjoy a comic relief at the ending credit bloopers.
Fixed it for you. To make everything nice and clean, you can always edit your posts instead of making new ones.
_________________
MY 1ST WIFI BATTLE VIDEO!
http://www.youtube.com/watch?v=3onRcbHSFoI
http://www.facebook.com/FrankieJames
http://www.myspace.com/FrankieJames
http://FrankieGatdula.blogspot.com/
http://twitter.com/FrankieGatdula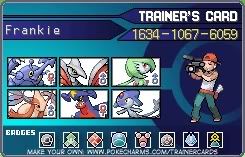 California, United States - Pacific Standard Time (PST)