These pokemon are from Johto, Kanto, Hoenn, Sinnoh.
Please don't guess all of them just one at a time to give other people chances too.
This game will end July 31.
Easy
-1.When it dangles from a tree branch, it looks just like a acorn. It enjoys scaring
other pokemon.
Easy
-2.It has volcanoes on its back. If magma builds up in its body, it shudders, then it
erupts violently.
Medium
-3.Seeing its swinging pendulum can induce sleep in three seconds, even in
someone who just woke up.
Easy
-4.Though usually dim witted, it seems to become inspired if the SHELLDER on its
tail bite down.
Medium/Hard
-5.It is said to have fallen with lightning, It can fire thunderbolts from the
rainclouds on its back.
Too Easy
-6.It lives in the forest with others. It stores electricity in the pouches on its
cheek.
Medium
-7.The biggest of all pokemon. It can dive to a depth of almost 10,000 feet on
only one breath.
Easy
-8.It controls balls of fire. As it grows, its six tails split from their tips to make more
tails.
Medium
-9.Its fine fur feels sublime to the touch. It can expand its body by inhaling air.
Hardest/Personal Favorite
-10.It intimidates foes with intense gusts of flames and
superheated air. Its quick nimbleness lets it dodge attacks even whilst scorching an enemy.
_________________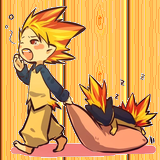 I'm
The
Sleepy
Quilava
Everyone knows that Quilava's real name is...
G
E
R
A
R
D