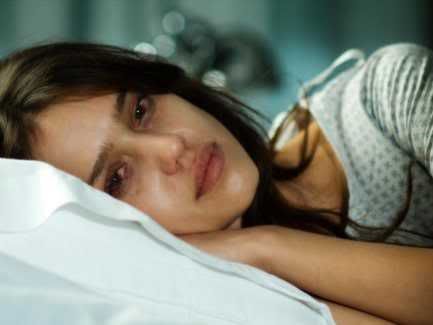 If you can't all ready tell I'm a movie fanatic,the latest Asian horror import, Jessica Alba's supernatural thriller The Eye, comes not from Japan but from Hong Kong, the former British colony known primarily for its highly stylized action films.Alba stars as Sydney Wells, a talented concert violinist who's been blind since the age of five, thanks to injuries sustained during the course of some innocent fireworks-related childhood mischief. Far from a helpless invalid, Sydney is headstrong and independent, living happily on her own in a posh downtown L.A. apartment.Technology's advanced a great deal during Sydney's two decades in darkness, and she's soon able to regains her sight by means of a double corneal transplant, utilizing corneas harvested from the eyes of some anonymous cadaver. The transplant immediately proves to be a smashing success, save for one unfortunate side effect: Sydney sees dead people. More specifically, she's haunted by terrifying visions of folks around her meeting their gruesome demise. It's a terrible plight indeed. Unfortunately, no one seems to believe her claims -- not even Dr. Paul Faulkner, the conveniently attractive "neural specialist" tasked with helping ease her transition into the land of the seeing.
So Sydney commences her own investigation, and soon learns that she's suffering from a phenomenon known as "cellular memory," in which (according to the film's press notes) an organ transplant recipient displays the characteristics of the donor. Sydney's donor, it so happens, was a Mexican Alba, with sight psychic uniquely proficient at foreseeing the deaths of those in her immediate vicinity, and she appears to have passed on the dreaded talent to our poor heroine.As her visions becoming more vivid -- and more frightening -- an increasingly desperate Sydney endeavors to rid herself of the ghostly tormentors before the last vestiges of her sanity vanish for good.
For the most part, The Eye is essentially a paint-by-numbers facsimile of The Grudge, The Ring and countless other Asian-influenced, hot-chicks-in-peril supernatural thrillers. It packs plenty of scares for a PG-13 film, but takes entirely too long to hit its stride, relying almost completely on cheap cinematic tricks for the first 45 minutes. Alba is decent enough in the lead role, though, as is the case with most scary movie heroines, she makes one bewildering decision after another. Directing duo David Moreau and Xavier Palud drastically underestimate our intelligence, much of the story is good, it's just that most of the story's major "revelations" fall flat.