Bug Catcher

Joined: Tue May 29, 2007 5:15 pm
Posts: 4
Newb with questions
Ok. I'm new here, but not really new to Pokémon. I've only actually gotten my first actual Pokémon game in material form last Christmas. I'm certain that emulation discussion is forbidden here, so I'll shut up about that now. The material game in question that I got was Crystal. Now, this was a used copy, and I'm not certain just how old it already was when I got it.

Anyways, I read somewhere on GameFaqs that some guy had some problem with his game's internal battery. Now I know that these games die eventually, but he said that in his game, when he turns off his GBC, the time stops in-game, and it resumes when he turns it on with his Pokémon game intact. I found this peculiar because this is exactly the same way my Crystal is, and always was (at least when I got it). I always thought that this was normal. In that same GameFaqs topic, some guy said that the guy in the same situation as I should replace his internal battery, as it's dying.

Now, approximately how much longer do I have until my game dies? I don't know how old it was before I got it, but I've clocked about 47 hours with the current internal battery situation, so I'm just curious if this sort of thing is normal. I've always wondered why at this website's walkthrough to the GSC series they say that by the time you get to the Elite Four, you should have gotten all the items from the once-a-week siblings. Not that I particularly care about their items, but it always seemed odd that I started the game with the ingame time at a Friday, have played 47-or-so ingame hours, have played the game on-and-off since Christmas, and yet I'm only on the Sunday of the same week...

Sorry if this is in the wrong section...

EDIT: Another question: Since this is my first material Pokémon game, I've never traded any Pokémon or anything, so how does it work? I, for example, want a Steelix (although I haven't beaten the E4 yet), and I know that you have to trade an Onix with it holding a metal coat for it to evolve. So do you basically trade it, and then trade it back, evolved, or do you do something else?

EDIT Again: Can I use a picture from this website's picdex as an avatar?
Bug Catcher

Joined: Tue May 29, 2007 5:15 pm
Posts: 4
It'd be very nice if somebody could reply to at least one of these...

Sorry for the double post...
Dragon Tamer

Joined: Sat Apr 14, 2007 4:46 pm
Posts: 212
Not sure about your dead battery, but yes, that's how one would go about getting a steelix.
_________________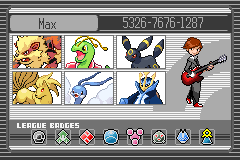 Serious? Buisness? Internet?