Lawence Codye wrote:
Cactuar wrote:
You gain the level when you transfer the Pokemon back to the game. And It seems that you can only gain 1 level per Pokewalker transfer, to gain more you must transfer the poke back to the game and then back to the pokewalker and walk again.
wow...if this is true, that feature will only come in hand well after a pokemon learns it's last attack, somewhere in the 90 level range.
How so? It would be handy anytime you think "It'd be great if my pokémon was stronger than it is now." (i.e. anytime unless you think having good pokémon is boring, in whichc ase I'm sure your 6-man Magikarp team is doing well.)
If you need to put your pokémon into the game to gain the level, then obviously you'd be able to choose the move to be replaced because
you'd be in-game when that happens.
Load a Growlithe into your pokéwalker, and you can walk two dogs at once! Neat-o!
_________________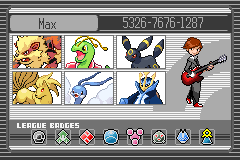 Serious? Buisness? Internet?