Quote:
PokéWalker is a new bit of hardware which is said to be bundled in with Pokémon Heart Gold & Soul Silver. This bit of hardware is special in that it will allow you to transfer one Pokémon from your HeartGold & Soul Silver games onto PokéWalker. As PokéWalker is a pedometre, when you walk about, your Pokémon will slowly raise level and happiness. This will allow you to raise your Pokémon as you go about your daily lives.
I was doing research on the Pokéwalker that came along with Heart Gold and Soul Silver. It mentioned that it'll raise levels too. I don't have either game yet (waiting on the US release cause it's $60 in Japantown in San Francisco), but does anyone know how raising the level on the Pokéwalker affects EV Training? I couldn't find any threads related to my question, so I thought I'd ask. I'm sure others would be curious as well.
On the other hand, I could have completely misunderstood the explanation about the Pokéwalker in the quote I posted.
_________________
MY 1ST WIFI BATTLE VIDEO!
http://www.youtube.com/watch?v=3onRcbHSFoI
http://www.facebook.com/FrankieJames
http://www.myspace.com/FrankieJames
http://FrankieGatdula.blogspot.com/
http://twitter.com/FrankieGatdula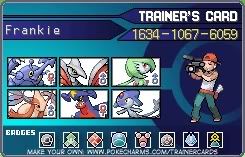 California, United States - Pacific Standard Time (PST)