Prepare for trouble
Make it double
To protect the world from devastation
To unite all peoples within our nation
To denounce the evils of Truth and Love
To extend our reach to the stars above.
Jessie!
James!
Team rocket blasts off at the speed of light, surrender now or prepare to fight, fight, fight!
Meeowth, that's right!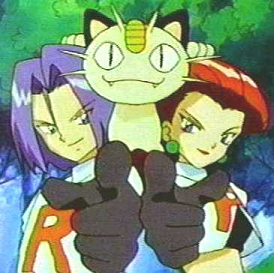 Teams Aqua, Magma, Galactic and Plasma are such n00bs. No theme song? Srsly?
_________________
"We can complain because rose bushes have thorns, or rejoice because thorn bushes have roses." -Abraham Lincoln
"You can't argue with all the fools in the world- it's best to let them have their way and trick them while they're not looking." -Brom
Credit to Jester for the avatar!