Now that the GPCT is running... what characters from the pokemon franchise do you think best represent members of Psypoke? Here are some examples
Krisp - Clair
Clair in the games is a dragon trainer, idolised by many and... sexy. That's how I always imagined Krisp to be - a strong independant feisty female. Krisp and me have been on opposite sides on a few issues in terms of people management, which is why I associate Krisp to Clair. eg: Clair refusing to believe she had just lost and demands Gold to fetch a dragon fang from the Den. We're cool now though so don't worry, and those issues I had were completely my fault. So yeah.
Serpentsounds - Falkner
I've read Pokemon Adventures which is everything the anime SHOULD BE (but isn't) in here Falkner is portrayed as a beginner policeman, and in the games he is the first Gym leader you battle. For those who didn't know, me and Serpentsounds were moderated together at the same time, and I find his calm yet helpful posts to be of the same personality that eradiates from Falkner. Although, of course, I had the altercation with Krisp above and got fired from my staffing position whilst serps got bumped up to Gym Leader. So yeah. Oh and me and xalia ALWAYS refer to serps as ~the wise ****~ as well as making poo jokes about him, and being the calm collected kid he is he just takes it.
Cruncho - Brock
Although I know he DOESN'T, I always imagine Crunch to have 99 girl problems and that he's like a loveable social awkward guy (EG: he strongly reminds me of CHUCK from CHUCK which is my favourite TV show atm
) and so I imagine Cruncho to be that kinda guy. Hopeless romantic almost. Brock is my favourite gym leader from all the games ever because he's helpful, modest and just an all round cool bloke, just like crunch here.
Datvu - Lucian
TBH I haven't even battled Lucian before, but I know he's a psychic trainer and bulbapedia said he likes to read books. I think DatVu wears glasses too so I imagine him to look a little like this. Dat uses a lot of buzz words in his posts as well as structuring them very rigidly (which I find very robotic and at most times tldr;) but it does give me the impression that he knows what he's talking about. Honestly though Dat I like your short succinct posts around here a lot more than your essay style posts because there's a lot more personality that comes out. I also like that he likes to know what others are up to, and that he seems to make friends easily on here.
Firestarter - Volkner
Even though I never talk to him ever, FS is my favourite administrator because everything he does seems to be right. I think he's got some kinda superiority complex and is very apathetic with most things concerning psypoke, because when he does do something everyone rages and moans and bitches about him. Anyway Volkner in the games is very bored and doesn't want to challenge people. He only really challenges Diamond cos things get exciting. I got a feeling FS will be a lot more active with the release of B/W (which will result in a growth boom no doubt) which is why I get a Volkner vibe from him.
EvilPenguin - Aaron
Well.. EP also gets the beginner vibe from me because moderated at the same time etc (see serp's post). Aaron uses bug type pokemon which is representative of the stuff EP's into - quirky and unique. He's also the first E4 member in the Sinnoh region which is part of the beginner/warmup vibe I get. Oh and sometimes I'll look at his posts and think "geez what a loser you're just a kid" which.. is the feeling I get sometimes when I see Aaron. Anyway all that aside EP is one of my mates here, and I reckon Aaron is cool too... kinda like your best mate IRL who's always doing something stupid to get laughs.
I would provide commentary but... let's just say I can be a bit blunt sometimes. If people can understand I'm not trying to stir things up I might edit some in.
PS you can't do yourself. That's cheating
_________________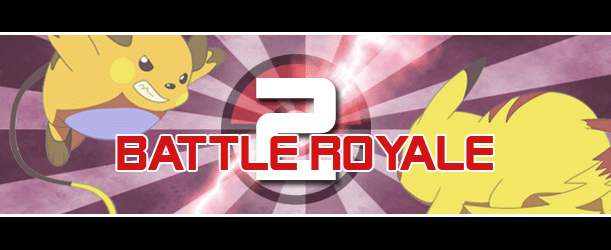 Sponsor a pokemon today to guide them through the knockout tournament! (2,000 Psybucks up for grabs)