I don't really see the reason of this thread and I'm not trying to change any one's opinions but these pokemon who have been listed don't need evolutions.
They have bad stats: They are suppose to have bad stats because not all Pokemon should have good stats.
They don't learn good moves: They aren't suppose to have good moves, that Pokemon is what it is.
It needs an evolution because it would be cool: It doesn't have an evolution for a reason.
It's too big it needs a pre evolution: It's big because some Pokemon are big.
I don't like it so maybe an evolution will make it better: It's your problem you don't like it and because it's not liked doesn't mean it should evolve.
Example:
is a great Pokemon and one of the reasons it's so great is because it doesn't need an evolution just like many other Pokemon.
I could go on but I forgot a lot of the things I was going to type. Maybe my mind wonders too much?
P.S. I am very biased (I will admit it) because as seen in my sig I think making more Pokemon should of been done after Gen III and I dislike Gen IV and V very much.
_________________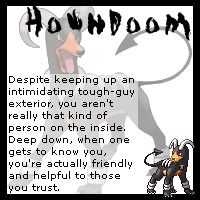 It would of been nice if new Pokemon were stopped being created after Generation III.