---
EDIT: 18 May 2014
Sorry I couldn't run this guys, I'm still quite busy but I am back home now so I think the least I can do is refund everyone's Psybucks back. I'm not sure when this will happen but I'll have to go through the logs, but I hope this will happen soon. Thank you everyone for the interest, and a bit of a shame I couldn't spare time to get this off the ground.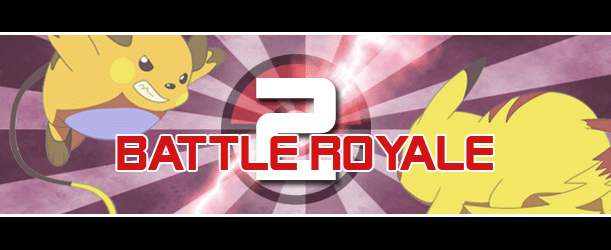 *Credit goes to LightningCharm for the base image.

The format:
Following the success of the first bout, the second BATTLE ROYALE will consist of Pokemon #109-251 on the chart, as determined on the Pokedex. Selected Pokemon would be pit against one another in a fight to the death, and if they get through all the rounds... they will be the CHAMPION, still alive after defeating everyone else, and will be crowned the second BATTLE ROYALE champion. It is an honour like no other.

A contest that takes more than just looks and strength into account, its all about winning over the crowd! Do you have have it takes to train up a champion?

The bracket:
NORTH QUARTER | EAST QUARTER | SOUTH QUARTER | WEST QUARTER

Current results:
ROUND 2:
M1: Shuckle v Houndoom
M2: Espeon v Porygon
M3: Eevee v Flareon
M4: Steelix v [4] Dragonite
M5: [10] Aerodactyl v Politoed
M6: [2] Mewtwo v Snubbull
M7: Meganium v [6] Tyranitar
M8: Magikarp v [15] Scyther

ROUND 1
B01:

SHUCKLE

def. Lanturn / [16] Umbreon / Jolteon (12-6-4-0)
B02:

HOUNDOOM

def. Donphan / [1] Typhlosion / Moltres (9-5-3-3)
B03:

ESPEON

def. [8] Heracross / Xatu / Rhyhorn (9-6-2-2)
B04:

PORYGON

def. Lapras / Porygon2 / [9] Zapdos (9-5-3-3)
B05:

EEVEE

def. Crobat / [5] Mew / Hitmontop (17-6-5-3)
B06:

FLAREON

def. [12] Snorlax / Pinsir / Suicune (18-14-1-0)
B07:

STEELIX

def. Quilava / Raikou / [13] Starmie (7-6-4-3)
B08:

[4] DRAGONITE

def. Sneasel / Tauros / Chinchou (13-8-4-4)
B09:

[10] AERODACTYL

def. Gyarados / Lugia / Electabuzz (8-6-3-2)
B10:

POLITOED

def. [7] Ledian / Cyndaquil / Ampharos (11-9-7-0)
B11:

[2] MEWTWO

def. Unown / Skarmory / Vaporeon (22-15-3-2)
B12:

SNUBBULL

def. [15] Articuno / Flaaffy / Rhydon (23-12-2-2)
B13:

MEGANIUM

def. Kabutops / [11] Kingdra / Mantine (14-10-1-1)
B14:

[6] TYRANITAR

def. Ditto / Pineco / Feraligatr (18-11-3-0)
B15:

MAGIKARP

def. Blissey / Bayleef / [3] Scizor (4-3-3-2)
B16:

[15] SCYTHER

def. Forretress / Ariados / Kangaskhan (14-7-3-0)

Pokemon qualifying for the main draw:
Aerodactyl, Typhlosion, Rhyhorn, Raikou, Quilava, Scyther, Kingdra, Suicune, Mantine, Cyndaquil, Shuckle, Starmie, Eevee, Bayleef, Xatu, Mew, Lanturn, Zapdos, Forretress, Vaporeon, Porygon, Heracross, Articuno, Flaafy, Hitmontop, Lapras, Meganium, Sneasel, Ampharos, Donphan, Ledian, Steelix, Tauros, Chinchou, Kangaskhan, Tyranitar, Flareon, Mewtwo, Crobat, Electabuzz, Scizor, Ariados, Politoed, Espeon, Snorlax, Umbreon, Ditto, Magikarp, Moltres, Porygon2, Snubbull, Dragonite, Blissey, Pineco, Unown, Kabutops, Gyarados, Rhydon, Skarmory, Houndoom, Lugia, Pinsir, Jolteon, Feraligatr.