---
TOP 16 SEEDS: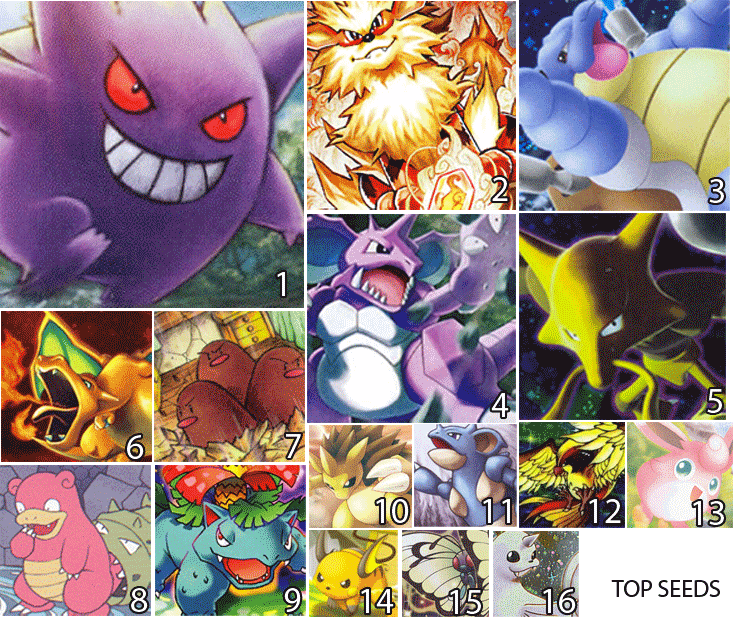 Gengar tops the list as the expected Pokemon to win the tournament, owing to both his strong finish in Psypoke Idol as well, being OU in almost all forms of the metagame, as well as polling a vote from every single person in his group. Perhaps surprisingly, pre tournament favourite Charizard could only reach a number 6 ranking, mainly due to his poor group performance. Ground Pokemon [4] Nidoking, [7] Dugtrio and [10] Sandslash were perhaps the surprise packets of the seeds, whilst seeds 13-16 showed that a lot of people also preferred cuteness over strength, and one of these Pokemon could just be as likely to take the title with their charm over the general population.

Just missing out were Electrode, Bulbasaur, Charmeleon and Haunter, who will all have to be lucky enough to avoid matching up with one of the seeds during the first round.

[1] Gengar
[2] Arcanine
[3] Blastoise
[4] Nidoking
[5] Alakazam
[6] Charizard
[7] Dugtrio
[8] Slowbro
[9] Venusaur
[10] Sandslash
[11] Nidoqueen
[12] Pidgeot
[13] Wigglytuff
[14] Raichu
[15] Butterfree
[16] Dewgong

SPONSORSHIP RULES
> Three Pokemon can be sponsored, however one 1 may be a seeded Pokemon. However, during bidding stages, you can bid on several seeded Pokemon but ultimately only 1 will be accepted.
> You can sponsor Pokemon wither through PM, or through this post (preferred). If I start getting a barrage of PMs I -may- decide to charge a processing cost. PMs also allow for anonymity, if you feel you people are targeting you.
> Outbidding must be done in multiples of 5 Psybucks. (ie, 5, 10, 15, 20...etc)
> Bids are capped at 200 Psybucks.
> Bids will start off FREE for the first two days, before base prices increase. This is why people should get in quick!
> Staff members are also encouraged to play, however are discouraged on outbidding players.
> Extra rules may occur if we encounter any further problems.
> I expect the sponsorship period to last for about 5 days in total.

CLAIMED POKEMON (in green):
* Remember that if your favourite is in green, you must outbid the current sponsor in order to claim them for the tournament.

GROUP 01: [14] Raichu, Beedrill
GROUP 02: [15] Butterfree,

[10] Sandslash (Dare234)


GROUP 03: Kadabra, Charmeleon
GROUP 04: Ninetales, Pidgeotto
GROUP 05: Growlithe, Poliwrath
GROUP 06: Sandshrew, Kingler
GROUP 07:

[3] Blastoise (Samurott)

, Clefable
GROUP 08: Ponyta, Mankey
GROUP 09: [4] Nidoking, [13] Wigglytuff
GROUP 10: Dodrio, Parasect
GROUP 11: [8] Slowbro, [5] Alakazam
GROUP 12: Cubone, Krabby
GROUP 13:

[1] Gengar (Edoc'sil)

, [2] Arcanine
GROUP 14:

[6] Charizard (Shuckle-rock$)

,

Hitmonchan (Dare234)


GROUP 15: Wartortle, Doduo
GROUP 16:

[16] Dewgong (Dare234)

, Electrode
GROUP 17: [12] Pidgeot, Hitmonlee
GROUP 18: [9] Venusaur, Charmander
GROUP 19:

Marowak (Shuckle-rock$)

, Pikachu
GROUP 20:

Haunter (Samurott)

, Ivysaur
GROUP 21: Diglett,

Gastly (Edoc'sil)


GROUP 22: Rapidash, Voltorb
GROUP 23: [11] Nidoqueen, Machamp
GROUP 24:

[7] Dugtrio (Samurott)

, Golem
GROUP 25: Golduck, Victreebel
GROUP 26: Bulbasaur, Jigglypuff
GROUP 27: Slowpoke, Squirtle

Earning a second chance into the main draw are the following Pokemon:
Vulpix, Golbat,

Hypno (Edoc'sil)

, Psyduck, Fearow, Weedle, Nidoran F

Random selections for wildcards:
Machop, Onix, Nidorina



Shuckle-rock$ wrote:

I'm sponsering
,
, and

Since Samurott got in first on Blastoise, would you like to outbid him?