---
Thanks for sticking by everyone! We'll launch straight into our next interview right now, so don't go anywhere! He's a strong silent guy with.. lots of money, probably, but please make very welcome the charming Shuckle-rock$!



DragonPhoenix: Thanks very much for joining us, Shuckle-rock$. Your Pokemon, the 6th seeded Charizard, needs no introduction... but I'm going to do it anyway. The giant fire lizard squeezed into the main draw, knocking out Machamp and Weedle in Round 1, and edged past Bulbasaur in probably what was one of the tightest matches we've ever seen in Round 2. Obviously there's got to be a good reason for his successive wins! What are some of his key strengths?

Shuckle-rock$:

He might be a little overated with some people, but I like him, since he's an awesome fire-breathing dragon. He was also my starter in my first game (FireRed) and would simply Flamethrower everything to death until the Elite 4, where Lorelei pretty much stopped me.



DragonPhoenix: Sounds like Charizard is one of those Pokemon you can always count on, right? What else would you say to people who are on the fence regarding Charizard? Maybe you can provide some reasons why they too should pick Charizard as someone they can always count on?

Shuckle-rock$:

Well again, he's a cool dragon (although he's not a dragon type for some reason (and he should be)) and is part of the original pokemon group. He is also very powerful, fast, and has a large movepool, so that's why I think people should vote for him.



DragonPhoenix: And that's everything you want in a Pokemon! Well you've convinced me thats's for sure. Not that I needed convincing in the first place because I've always been a fan of Charizard myself! But this next battle: Charizard will have to face Blastoise, who he obviously has a weak matchup towards. Do you see this as problematic?

Shuckle-rock$:

Unfortunately, he has some BIG competition with Blastoise next round, since he is very similar to Charizard, and that everyone is speculating that he will win. So it might be Charizard's last hour for the next round, but who knows? He just might pull through.



DragonPhoenix: That's right, all you need is trust and belief and anything can happen for you. Best of luck to you and Charizard, Shuckle-rock$, hopefully the type weakness won't be much of a barrier to your progress in the competition, and hopefully we'll see you on the other side!

And for our final guest tonight, some of you may have seen around these parts before. His presence around here is pretty big, and you probably have been living under a Geodude if you haven't at least read about him in the papers before... please make welcome the famous Samurott!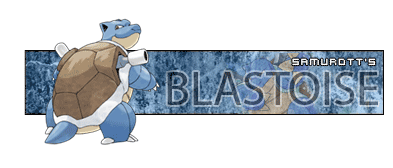 DragonPhoenix: Welcome to the show Samurott! Nice entrance there by the way, I like it. Firstly just introducing Blastoise to newcomers of the show: he smashed through Round 1, beating out Gastly, however in Round 2 he had a tighter affair, only beating Charmeleon by 1 vote. Looking like the two of you make a great team! Why do you think that is?

Samurott: Well, after six months of boycotting pokemon (After I lost with Venusuar. What? C'mon, I was like, 6.), I got back into it. I bought Blue, and I was like, "OMG, that looks great!" So I popped it in and picked Squirtle. Within a few hours, I was taking on Lt. Surge with Sandslash, Raichu, Farfetch'd, Pidgeotto, Diglett, and of course, Blastoise. About 40 levels (and 20 hours) later, I was beating the crap out of the E4. This s*** blew my ****amn mind when I was a child. I know people love this awesome turtle. Not shellfish, turtle. Because there IS. A. F****NG! DIFFERENCE!

DragonPhoenix: Haha alrighty, I know we provide refreshments backstage for all our special guests but I'm going to ask you to calm down a little! Enthusiasm is always good but remember we're airing in a very early timeslot. Anyway moving on: you're here to promote the giant turtle, right? What are some of the advantages of the water starter?

Samurott: Why shouldnt people vote for him? He has guns on his back. GUNS!!! He'll get offended if you dont for him. I wouldnt want to offend he has a gun.
Besides, Hitler would vote for Charizard.

DragonPhoenix: That's pretty true, and you know I am a gun enthusiast myself! And speaking of Charizard, how do you see your chances against him? What are some strategies you'll employ when facing off against the walking fire hazard?

Samurott: Opponent? Pfft. PUH-LEASE! He's an overrated fire lizard. With wings.
He practically screams "MARY SUE!"

DragonPhoenix: Aren't Mary Sues ideal characters? Wouldn't that make it harder for Blastoise to compete against? But anyway, we seem to be running out of time. Any last remarks on the competition or on life in general?

Samurott: I LIKE PANCAKES!!!!1!111!!!1! Umm... Just think. Before Mudkips, their were Squirtles.
NOW VOTE!

DragonPhoenix: Alright well thanks for taking the time out from your busy schedule to come chat with us! Us at the production team would like to wish you the very best in next match coming up, and we'd also

like to wish you luck at your next AA meeting.

.



QUARTERFINAL 4: [6] CHARIZARD vs [3] BLASTOISE



Sponsor moves:
Charizard used Smokescreen! Blastoise's accuracy fell 1 stage!
Blastoise used Rain Dance! Water moves are now given a +1 boost! Fire moves are now given a -1 boost!
Charizard used Dragon Dance! Charizard's Attack rose 1 stage! Charizard's Speed rose 1 stage!
Blastoise used Hydro Cannon! Charizard is hit with -2..




COMMENTS: Blastoise vs Charizard! This one is going to be an epic one. When it comes down to it, this one is just one big nostalgia fest, so we'll see what happens here! Blastoise starts off with a handy 1 vote advantage, however that could easily be made up by the surging fire lizard! Who will get through? Only one way to find out! Stay tuned an make sure you vote for your favourite!



----------------------------------


INITIAL SCOREBOARD
Q3:
+0 |
+3
Q4:
+1 |
+2

Second batch voting now underway! Thanks to all the sponsors DragoBoy, ShinyLucario, Shuckle-rock$ and Samurott who were all patient enough to sift through my long PMs in order to get these rounds underway!

Also I'd like to thank everyone so far who has commented, posted, voted.. etc.. the more votes we get, the more suspenseful things get too, and as cliche as it sounds, I don't think this BR competition would be as half as interesting without the upsets and opinions we've seen in the last few pages.