---
Ok so... we can start
!!



In a not too far future, Pokemon tried to rebel against their human trainers, vowing to be free of their slavery, whilst in turn attempting to slaughter millions of humans. In retaliation, a cross species war sparked, and when the humans won, they implemented the BATTLE ROYALE, to make sure that no rebellion would happen again. 108 Pokemon are chosen, and are left to battle it out to the death. The Pokemon must now rely on their skills, their smarts and their charisma, to win back the affection of spectators, who may sponsor selected Pokemon, which will increase their chances of survival. Who will be left remaining at the end of the first BATTLE ROYALE? Join us, in our live show, as we give you the best possible coverage, of everything happening in the arena.



*************



Hey everyone and welcome to the FIRST ROUND MATCHES for the Battle Royale competition! Things are finally going to get interesting, and the only way to get your favourite through is to vote vote and vote for them! Lobby your friends, get the support happening, because when things get tough... your Pokemon will need all the help they can get in the battle arenas.

ROUND 1 MATCHES:


MATCH 1

HITMONCHAN V [16] DEWGONG V DODRIO V HAUNTER

Normal Arena

COMMENTARY: Dewgong, the 16th seeded Pokemon is of course the favourite to go through, however we have to take into account that he doesn't have backing by a major sponsor, which could really hurt him! My personal 2nd favourite Pokemon currently completing, Dodrio, doesn't seem like he's much of a chance to enter through to the next round either, despite coming in first place in his group in the preliminary stages. Hitmonchan seems like he's not a little bit of a chance to get through, managing to pick up a sponsor. However, I think Haunter might be the one to qualify here, gaining a massive 3 vote advantage due to his immunity to the normal type.

EXPECTED: Haunter
WITH A CHANCE: [16] Dewgong



MATCH 2

PIDGEOTTO V CUBONE V [1] GENGAR V GOLEM

Rock Arena

COMMENTARY: If Gengar doesn't get through, this would surely be the biggest upset of the competition. Currently seeded 1st, he shone through the preliminary stages getting a vote from every single spectator, being one of only 3 Pokemon to do so. Being popular amongst people across all ages, his competitors surely are unlucky to be up against him. However, as we've seen in the prelim stages, that general popularity isn't everything! Some people have a preference for cuteness, and if anyone can knock Gengar out, look out for little Cubone! His ground typing also gives him the edge in the ROCK arena, which can help him avoid dangerous Rock Slides. Golem too looks to be a chance, also gaining a +1 vote advantage over Gengar. Pidgeotto starts on -1, however he does have a sponsor, which could easily change the tide of the game.

EXPECTED: [1] Gengar
DARK HORSE: Cubone



MATCH 3

[8] SLOWBRO V CHARMANDER V HYPNO V PSYDUCK

Bug Arena

COMMENTARY: They say that Psychic Pokemon don't like bugs, so Slowbro and Hypno are immediately at a disadvantage here in this arena. Charmander however thrives in this arena, the little flame on his tail fending off Bug Buzz attacks and redirecting them to his adversaries! Psyduck fans must be so glad that he can still use his Psychic powers without being affected by the Bug arena, so don't count this guy out yet either! It's going to be a tough one here, but I think the bulky Slowbro might take this out in a convincing win, despite his weakness.

EXPECTED: [8] Slowbro
DON'T COUNT OUT: Charmander



MATCH 4

KRABBY V KINGLER V WARTORTLE V [9] VENUSAUR

Steel Arena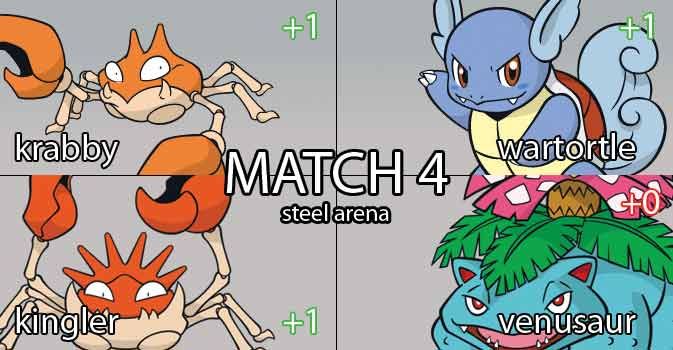 COMMENTARY: What a tough week it's been for Venusaur. First he couldn't find a sponsor to maybe help him through, and now he's stuck in an arena where ALL THREE of his competitors have a resistance to! His grass typing VS the others' water typings unfortunately can't help him here, he'll just have to rely on his skills and charisma to hopefully get the general public on his side, and maybe giving him some temporary firepower. Krabby and Kingler votes unfortunately might cannibalise each other, so I think these two might not be with a chance (but hey! What do I know? I'm just a game show host... Anything could happen!), however take a look at Wartortle in this match. He may not have a sponsor in this game, but he's also a popular 2nd stage Water starter competing in a group that has no sponsors attached onto anyone! If anyone's to cause an upset, it's him. Watch for him!

EXPECTED: [9] VENUSAUR
COULD BE REALLY REALLY CLOSE WITH: Wartortle

PRELIM SCOREBOARD
M1:
+0 |
+0 |
+0 |
+3
M2:
-1 |
+1 |
+0 |
+1
M3:
-1 |
+1 |
-1 |
+0
M4:
+1 |
+1 |
+1 |
+0

Remember you get only 1 vote per group, counts as 3 if you've sponsored a Pokemon, and if you want to play with extra votes, you do not post in here, but rather you PM me! As always, I enjoy reading your reasons of your votes, so put them down (not compulsory). Please refrain from editing your votes because then I have to scroll around and readd everything and I might just make mistakes with my math...

VOTING STARTS NOW!