---
Quote:

By the way, should I put more comments in?



Comments are optional, but I do consider them in such tie breaks and other decisions later on, and besides I like reading them, they're great. But no, comments aren't required, so your post is fine.


Second batch completed! And here are your qualifiers...

G06:
, an unevolved Pokemon, proves he's a fierce competitor tussling out Persian, whilst Vulpix and Kingler are dead locked 4-4... based on tiebreaker (my choice).. I'm sending through
, because the episode where Ash battles in the Pokemon league and winning his first round with Hyberbeaming Kingler sticks in my mind. And plus, yes I agree that Crabhammer is a very cool move. Vulpix fans please note that this was quite a hard decision for me to come to, and I didn't like doing it.


G07: We got a water group here! Original water starter
pulled through as I expected, with
also showing his popularity against Cloyster and Seel.

G08: Once again the unevolved Pokemon shone through in this group, with
qualifying first, and -again- we have a tie between Golbat and Mankey! Even though Golbat was my first wild shiny I found which I then evolved (which became my FLY slave)..
gets the nod from me, being a huge asset in Pokemon Yellow (Low Kick @ lv9 against Brock) and plus he was hard in the anime. Grimer was never a threat, only scoring 1 vote.

G09: Emerging as favourites for the competition as a whole,
and
dominated this group, leaving no love for opponents Gloom (1 vote) and Rattata (0 votes). After reading so many nuzlocke comics I began to like rattata, so I guess it's unfortunate he was placed in a group together with two other great Pokemon.

G10: In what many of you guys described as the most "meh" group,
(who, happens to be my 3rd favourite Kanto pokemon..) lead the pack, with
also crossing the line. Unfortunately for the poli-fans, Poliwag feel short whilst poor Onix only received 1 vote.

-----------------------------------------------------------

BATCH NUMERO THREE



GROUP 11
GROUP 12
GROUP 13
GROUP 14
GROUP 15


Half way there! there are 27 groups in total, each comprising of 4 Pokemon, from #1-#108..

Anyway, I figured because I know how everything is going to run now, I'll give you an insight to what I've been trying to organise. I've always liked watching things like the tennis, where there's a knockout kind of format, and after watching Hunger Games I'd thought I'd try and start a little activity to get a something happening, so I'm presenting Psypoke's very first (? maybe) fight to the death.. or, as I'm going to call it, THE BATTLE ROYALE.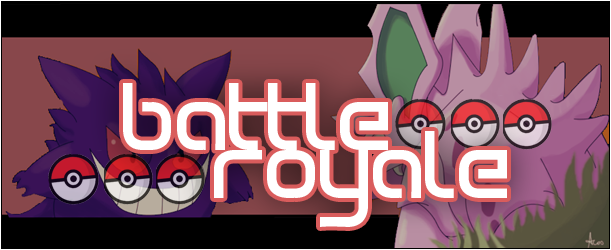 *Credit goes to bubba-loo of Deviantart for the base image.

The format:
The first BATTLE ROYALE will consist of the first 108 pokemon on the chart, as determined on the Pokedex. I know that there could be other ways to set things like this up.. but I'm setting like this because otherwise this selection process would be way too long. The second season (if this is popular enough) will feature Pokemon 109-216, and so on. Selected Pokemon would be pit against one another in a fight to the death, and if they get through all the rounds... they will be the CHAMPION, still alive after defeating everyone else, and will be crowned the first BATTLE ROYALE champion. It is an honour like no other.

PRELIMINARY STAGE (WHAT IS HAPPENING NOW): Each pokemon will be randomly put into a group of 4, (27 groups of 4), and you all have to vote to send them through to the next round. Rounds will run concurrently, and each group will send through 2 victors. There are also spots for 10 wildcards (5+5), who may have a second chance to enter the main draw. As for those who don't make it, they will die, and will be blacked out on the game card. So that's why you have to vote for your favourite, as only you can save them from their horrendous fate!

KNOCKOUT STAGE:
A bracket will be drawn up, with 64 spots, and the top 16 pokemon will be seeded, as accordance to their placings on Psypoke Idol. If a Pokemon is deemed to be on "equal" with another, I will be referencing their performances in the Preliminary stages. Prior to each "battle," there will be a showcase, pointing out each Pokemon's strengths and weaknesses, pointing out where the smart money should be placed on. Hopefully we'll even have some "celebrities" join us on the show, giving us their expert opinion! Interviews will be conducted with the contestants after the 1st round, to gauge their feelings and personalities about being in the game, to hopefully sway your opinion and hopefully gain some sponsors!

This will be more than a simple popularity contest.. "battles" will be held out on various arenas, which could be an assistance or a hindrance to certain Pokemon. A Pokemon's moves, stats, abilities, will all play a part in their survival in the BATTLE ARENA.

WHAT ARE SPONSORS? HOW MANY ROUNDS ARE THERE? IS THIS JUST A GLORIFIED PEC? WHY ARE YOU GIVING ME PSYBUCKS WHEN I CAN'T SPEND THEM ON ANYTHING? I'll reveal a bit more next time, but for the meantime, a successful batch of Pokemon ratings for Groups 11 to 15 will net you another 20 Psybucks!

PS: Please PM me if you haven't received Psybucks. Generally I send them out after everytime I post, and if I've missed you it's a genuine mistake.
Also I'm on Easter break now, so I can answer any questions you may have.

EDIT: Here's a game card (which, in future threads, won't be embedded onto the post)