And so the vote came to a draw. Each drew lots, and it was
Sawk
who came up short. To make the fight short,
Dragonite
and
Volcarona
hit him with a combination of Fire Blast and Hurricane, creating a powerful firestorm. Sawk didn't stand a chance. WHOA. Yet again, white smoke rose from the victims body. EPIC. After the smoke cleared, all that remained was his silver katana. THAT'S JUST FERAL!!! Absol picked up the sword (DUNUH) then using his Razor Claw (DUNUHH) carved an inscription into one of the beach stones celebrating
Sawk's
memory. The group then began up the seaside cliffs that stuck jaggedly out the side of Mt. Legend. (DUNUH DUNUH) The mountain loomed over them as they entered the mouth of a great cave (DUNUH DUNUH DUNUH!!!). [From Jaw's theme, we were told about great whites in Australia today] Inside the cave, the group could see a glowing purple light. It came from a massive meteorite. AND??? Engraved in the meteorite was a doorway and four pedestals with the cryptic forms of
Deoxys
. CRIKEY!!!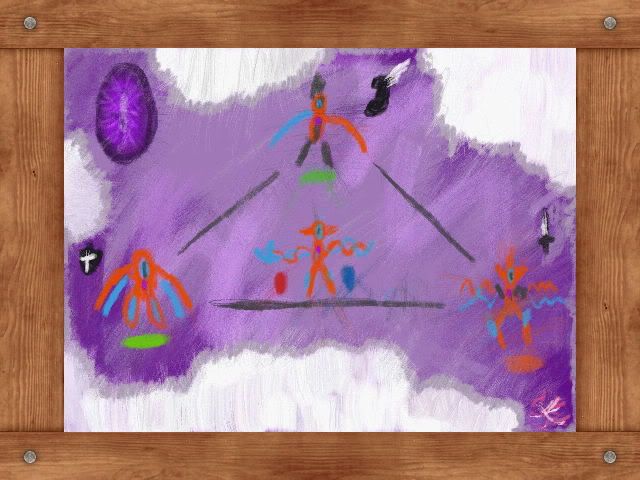 Deoxys pedestals
An inscription over the door read (READ WHAT? READ WHAT???), "To pass and receive the blessing of
Deoxys
, you must fulfill the balance of power." OH.
Beartic
said, "It's time for another quiz, and in the meantime, why don't you help solve the puzzle before us." (YAYYYY!!!!!)