---
The Site was locked out so Here it is...




Now the entire class turn toward Mektar's
Seat, but
was no were to be seen, It appeared as if
had escaped. the class began out the door to find him when Growlithetris
bumped
s desk and
s favorite Pink Pen rolled off the desk. When It hit the floor it cried out in pain. The entire class stopped and turned to the pen which was rolling towards the door. Jester
(who was one of the few students with hands) grabbed the pen and attemped to pull the cap off. The Pen howled in pain,
pulled harder, now the pen started changeing color from an adorable bubble gum pink to a dingy charcoal grey. Suddenly the pen started to melt in
s hands, forming a dark puddle on the ground, soon the puddle formed a shape not unlike
, It was the Werewolf.
"How did you do it?!"
demanded Rex09
The
laughed Evilly,
"Since I was so sneaky I suppose I could Tell You. First was that low life Dark Wing
, He was easy, as
I challenged him to a fight, so he said to come alone to the arcade, knowing try to he'd back hand me and bring the rest of his gang along, I arrived early to the arcade there I waited for his gang to arrive.
had them all wait inside for his signal to come out and ambush me, as the gang passed I turned into Shiver
,
s left-hand man, After awhile
began to snicker, thinking that I'd gotten scared and didn't show for the fight. He was DEAD wrong. I left my hiding spot and headed towards
, at first
yelled at me for coming out of the arcade too soon, but I said I wanted to discuss something private with him, he said Okay and we headed down a nearby ally, with his back turned to me I hit him with a SHEER COLD attack that would make even a
shiver. 1 down 13 more to go. Next was Shinashu taji
, at the bonfire I could see how close he was to His sister Sun
and knew then and there he would be an easy kill, after fgdfgd31
was killed I copied her and went to
telling him that I wanted to leave, once the two of us had left the crowd I charged at him like a
BODY SLAMming him into the wall, however the sound of the impact had reached the crowd, and I had to run before they got there luckily
was

fast

. Later I was waiting to change back to
when Ann Faros
spotted me, quickly I used RAIN DANCE in hopes that I would lose them, Dod Rico
however had nearly caught up to me by then so I used
s PSYCHIC to scare
head, that was a close one, 3 down 11 to go, The next victim was harder due to most students staying locked up in there dorms, time was running short, as the sun was already on the horizon, when I noticed HW
leaving the gymnasium, I remembered that Nakuzami
was on the wrestleing team with
, and knew this was my opportunity,
was singing in the shower completely unaware of my intentions. Even though the wet floor stung my stone feet, I THUNDER PUNCHed the puddle and Gave
quite a shock."
chucked. "This worked out great, because I knew you would suspect Steel_Eel which I hoped would cause you to miss the fact, that
had died of shock, and it worked, you even failed to realize that Edoc'sil
s frightening ghost moves would have been ineffective verse the Normal type
, And that know-it-all Mytea Hana
even warned you about these facts. 6 down 8 to go. Last was Darktrainer13
, while he and Dust
were playing D&D I snuck into the dorm because they hadn't locked the door yet, waiting in the kitchen I transformed in to
and wrote the suicide note, I then had to wait a while before i could transform again, luckily this match went on for almost 2 hours, when the match had finally ended I was already changed into
, who had now gone to bed,
walked into the kitchen were I met Him, then he noticed the note I had left out he called me over to read it and before he could react I FLEW at him, out the window and High into the sky, then i dropped him, as he plumitted to the ground I realized that I had dropped him too far from the building which as I now know was a major mistake" At least I got most of you before You got me, 7 out of 14, not bad for 1 werewolf, but mark my words this isn't over Yet!"

With that
transformed into
who's intimidating appearance startled everyone, Steel_Eel
and GrowlitheTris
turned their powerful Dragon Fire toward
, however this wasn't quite enough and
had almost gotten away, Amber Mine
Let loose ROAR OF TIME, a legendary technique used by the mighty
and
was knocked flat. the Dragon Fire was starting to take effect and
body began to give off Thick Black smoke, the fire sprinklers went off but Dragon Fire cannot be put out with water.
body burned till nothing but a pile of ashes remained. Mytea Hana
stepped forward and picked something out of the ashes. It appeared to be a small white gem stone. "This is a Life Stone,

It is extremely rare, it is generated by the soul of someone who has taken the lives of others, It will bring the most deserving victim back from the beyond, once activated."
brought the stone outside into the sunlight, It began to Shine, so much that it blinded everyone, once they could see again they saw Darktrainer13
standing in the light. Everyone rejoiced that he was back. The partying went late into the night, Mytea Hana
was worried because he knew that werewolves rarely hunted alone.

The Next day all seemed right with the world, werewolf 101 met again
told them that since the werewolf had be caught they should now focus on learning the werewolves hunting patterns and thought process. Just after the class had left for the evening, there was a low rumbling and then what sounded like a mountain falling down, students rushed to the campus green to seem that the main dormitory had collapsed into a great heap. Many students were killed in that event, Including Mr. Dude
.

The Police believe that the Building had collapsed due to severe physical damage to the stone foundation.

Emergecy crews came to the school provideing food and tents for all the students that had been displaced after the collape. High aboive this grizzly scene the Blood Moon shown brightly.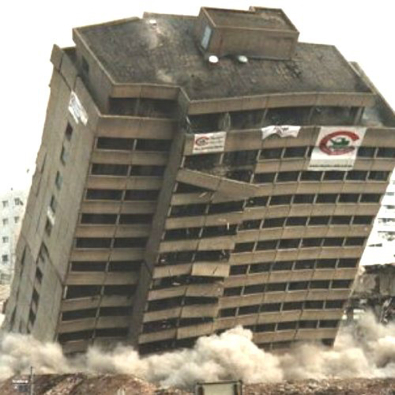 ____________________________________________________________________________________
/vXv\ Here
Way to go you got one!
Here the current class List
1. Rex09


2. DarkTrainer13


3. GrowlitheTris


4. Jaypokes


5. Jester


6. Steelbound


7. Steel_Eel


8. Amber Mine


Note just because He's back for the dead doesn't mean
isn't a werewolf
From now on it will only take 4 votes to kill someone
Don't Quote this HUGE post.