And so, the group had decided that it was
HONCHKROW
w
ho was the culprit, and Gliscor decided to finish her off with a good poison sting attack. However, as Gliscor attacked, Honchkrow reacted just in time, and she took down
GLISCOR
w
ith her too, retaliating with a powerful explosion attack.

And as it turned out,
GLISCOR
was a Werewolf! The group, excited to have eliminated a culprit, decided to interrogate the snitch.

Gliscor told them almost everything, that there were two other traitors and that they were working for Team Galactic. Their space controlling schemes failing, they reverted to kidnapping Pokemon, then selling them to rich people for profit. Disgusted, the group turned around to find
FLOATZEL
missing.

"Hang on, before we make our decision," started Torterra, "we need to think about a few things."

They knew Staraptor was innocent as he was safeguarded, and they knew there were two werewolves left. In order for the group to win, they needed to have three positive boot votes against a werewolf. It was a pity Gliscor did not know who his companions were; if ever one was caught.

And so, the vote began.
VOTED OFF:
PixelTwist - Honchcrow
(explosion/innocent)
Tragar - Gliscor
(werewolf)
EATEN: hfxjus - Floatzel
(Future Sight Pokemon)
ROLE CLARIFICATION - [Explosion] If an explosion Pokemon gets voted off eaten, then the person who cast the last vote on that person gets booted off. One per game, decided randomly.
First to reach 3 votes / most votes by 3 days is kicked out.
PARTICIPANTS VOTE ONLY. ONCE YOU HAVE BEEN EATEN / VOTED OFF YOU ARE GONE (ie, you no longer play a part in the game). Also, once you are gone, you may comment on the game but please do not reveal any information that may alter the progress in any way. Thanks.
Also, please update your votes in the format that we have always been doing for the past werewolf threads. thanks.
Participants list:
<s>1. ArtisticPlatypus - Munchlax </s>VOTED OFF ROUND SIX
<s>2. Nidoman - Luxray</s> VOTED OFF ROUND TWO
<s>3. poplers - Combee</s> EATEN ROUND EIGHT
<s>4. Cellblock - Infernape</s> VOTED OFF ROUND ONE
<s>5. Mitch The Dragon Tamer - Mothim </s>VOTED OFF ROUND SIX
6. pelligargetic - Croagunk
7. Xaliaphous - Glameow
<s>8. JsXtm - Empoleon</s> EATEN ROUND ONE
<s>9. Elemental Trainer - Riolu</s> EATEN ROUND TWO
10. metavoir - Staraptor
<S>11. Dussel - Dusknoir</s> EATEN ROUND FOUR
<s>12. PixelTwist - Honchkrow</S>
VOTED OFF ROUND EIGHT
<s>13. d360 - Cherrim</s> VOTED OFF ROUND THREE
<s>14. ~p o k e~ spriter - Garchomp</s> EATEN ROUND FIVE
<s>15. Blazikendude - Gallade</s> EATEN ROUND THREE
16. blazinglucar - Electivire
17. Sneaky Sneasel - Torterra
<s>18. Tragar - Gliscor </s>
EXPLODED ROUND EIGHT
<s>19. blaziken234 - Drifloon</s> VOTED OFF ROUND SEVEN
<s>20. hfxjus - Floatzel </s>
EATEN ROUND NINE
<s>21. SpagettiMonster - Magnezone</s> VOTED OFF ROUND FOUR
List to make it easier on the eyes:
6. pelligargetic - Croagunk
7. Xaliaphous - Glameow
10. metavoir - Staraptor
16. blazinglucar - Electivire
17. Sneaky Sneasel - Torterra
almost there, guys
_________________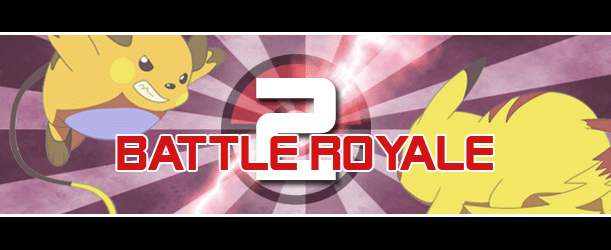 Sponsor a pokemon today to guide them through the knockout tournament! (2,000 Psybucks up for grabs)