---
Roleplay Name: Pokemon RPG: Taion Adventures!

Roleplay Genre: Adventure

Rating: PG-13; for slight language

Setting: The region of, Taion!

Plot: The world of Pokemon, a place full of many surprises. A world where humans and Pokemon live together. Some living in peace, love, and happiness... others live in hate, reject, and suffer the cruel things about life... but if you think about it, Pokemon and humans could live together without extreme consequence. Unless their owners are cruel of heart, like a number of organizations scattered across the Pokemon World. The World consists of many continents and regions, Kanto, and Johto are located in the center of Japan, Hoenn is located far to the east of those two, and finally Sinnoh was located at the north-most-point of Japan. All these region are home to creatures known only as Pokemon.

But there is a newly discovered region. The region of Taion. Taion... The southern most point of Japan. Here, there are many Pokemon Trainers, aiming to be the best with aid from Prof. Willow. The top scientist in Taion. There are also Pokemon Coordinators, aiming to beat the Grand Festival and being the top coordinator. But there are also thieves and crooks, the lowliest of them all is known only as... Team Neo. This is the most evil organization in Taion, and probably the entire world. They do various maniacal things: Steal Pokemon from innocent bystanders, make them do their biddings, and worst of all, capture and use for evil, legendary Pokemon. Thanks to their constant interfering in Taion, the slumber of the heaven Pokemon that controls the seasons in Taion was disrupted and was awakened. Her son, the hell pokemon was created from a cell from his mother and is infused with all the hate, and nightmares in Taion thanks to Team Neo's top scientist. The hell pokemon now haunts the earth for revenge. The pokemon of earth, the keeper of a magical stone, has not been awakened at all, and may be the only key to save Taion. The three legendary pokemon of Taion are now in a rage, running across the region of Taion. Worst of all, all these events are occurring right during the time that Professor Willow, the top leading pokemon scientist in all of Taion is sending out three trainers to complete his updated pokedex created by him and the famous Professor Oak. Can these three teenagers face all the perilous events? Who knows…?


Rules:
1) All psypoke RP rules apply.
2) Only one shiny on your team.
3) Only mild power playing/god modding allowed. But don't take COMPLETE control of other member's characters.
4) You are not allowed to have a legendary for a Pokémon.
5) Please have proper spelling and grammar skills. No substituting words such as 'I' or 'to' or 'you'.
6) Posts need to be at least two complete paragraphs, with dialouge of course.
7) If you are leaving for awhile inform me first via PM.
7) Taion Pokémon only on your team
8) Don't make your character Su, or san, i.e. Mary-Sue, Tylor-San
9) You cannot have a pokemon prior to your starter.
10) I will post what pokemon are available in that area; don't encounter a pokemon that's not native to that area, i.e. 'Molly walked down the route when she encountered a Sentret!'

Reauirements:
~If you're hardly on the computer, don't bother to apply. I want active RPers for this.
~I want RPers that are willing to stick to an RP. Please don't suddenly drop it because you've lost interest.
~The three characters are to stick in a group. But temporary straying can be allowed.



Starters: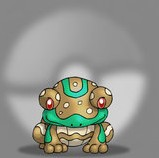 Frungus TAKEN!
#001
The Mushroom Frog Pokemon
Level 5
Rash Nature
Attacks: Pound, Growl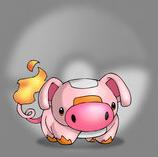 Tinderloin
#004
The Pork-Fry Pokemon
Level 5
Brave Nature
Attack: Tackle, Growl



Bufflow
#007
The Water Buffalo Pokemon
Level 5
Gentle Nature
Attacks: Tackle, Growl

NOTE: I do not own this pokemon, but I did receive permission to use them in thi rp.