Yo, I need some help. My GIMP is pissing me off and wont let me create proper GIFs. I sopy the first layer 7 times, and I'll edit one layer, and it edits all of them, so for fear of punching a hole through my computer monitor I'm passing the task of making a GIF of my newest Pokemone to anyone who can do it. My newest Pokemon is based partially on the Man in the Moon, and Akashi-ta (lol, it censored it! remove the "-" and thats it) a Yokai (Japanese mythical creature) who is made of clouds. The Yokai Akashi-ta is a very menacing Yokai that is supposed to be a harbinger of calamity, particuly of fire. So I was thinking Ghost/Fire. He's got to learn Future Sight (even though thats not a ghost move) because of the way he sort of predicts a calamity, the Yokai is more of a Guardian or warning sign than a true threat in and of itself. So, I made my Pokemon a little cuter while still manting creepy-ness. Its Pokedex entry is thus:
"(Pokemon) lives in the clouds resting its eyes at all times. If its eyes open whatever it looks at immediately combusts, no matter what."
Heres what he looks like
Attachment:
**** Pokemon frame 1 and final.PNG
Ok, so I need someone to make a GIF using these pictures below in order of the numbers beside them.
Attachment:
**** Pokemon frame 1 and final.PNG
1 & final
Attachment:
**** Pokemon Frame 2 and 6.PNG
2 & 6
Attachment:
**** Pokemon Frame 3 and 5.PNG
3 & 5
_________________
Platinum Team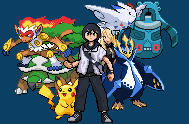 HeartGold Team
"La tristesse durera toujours... (The sadness will last forever...)" - Vincent Van Gogh