Cherrim: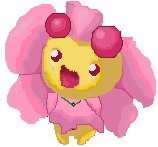 Kasey made it cry
Anyway, I spent hours on this. I edited the original sprite MAJORLY, then enlarged it, then got rid of the outline, then put on the tears,then shaded it better and added in all the outline areas without outline, then I did some othervery important stuff, and made it transparent, and psted it here!!!!!!!
Can I have LOTS of ratings on it, because you all know its UBER and Cherrim is an uber pokemon. Now to make a giant Drifloooooooooooooon!
=3
PLEASE DON'T STEAL THIS!!!! OR USE IT, OR CUDDLE IT.
EDIT: Here are all the ones I've made. Will update.