Happy V-day all. Just giving all you artists a chance to get a free "basic" shiny. What do I mean? Well with March being the start of the College Basketball Championship - "March Madness" and having St Patty's Day - I'm feeling a little green.
Starting on March 1st, I am looking for sprites, banners, drawings, Trainer cards, etc of Pokemon wearing / playing Basketball with Michigan State Colors. This is not limited to Basketball, but Football, Hockey and Baseball.
There is a catch, however. The pokemon you want me to breed for you must be the one you submitted. You can color the pokemon in their normal colors or in their shiny colors - it's up to you. If you want more than 1 (up to 5) you can submit a team/action drawing or you can send x number individual sprites/drawings.
After the Month of March is over I will post(maybe with help) all the requests I have received and people can vote on the one that either looks the best or represents Michigan State Sports the most (Two categories ). The One who receives the most votes in either category by the end of April will receive a Free Shiny* of their choice.
So if you are a sprite maker or artist and want a free shiny, start creating it now and submit it in March.
If you have any questions, please message me or check out my trading thread (Link in sig)
###EDIT### - A Basic shiny has no specifics, it's basically the first Shiny of that species I get.
*The Winner Shiny can have any specifics(gender, nature, egg moves, etc) for free.
_________________
Pacific Time Zone (UTC-8) and I work graveyard. So the best time to contact me is
8am-12noon
(I might be working outside) or
8pm-9:30pm
Mon-Sat.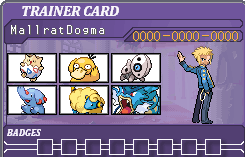 Pearl
- Loki 3180 2509 3375
-I am a Shiny Breeder and can breed one if you PM me.
My Shiny Trading thread:
http://www.psypokes.com/forums/viewtopic.php?f=36&t=26723