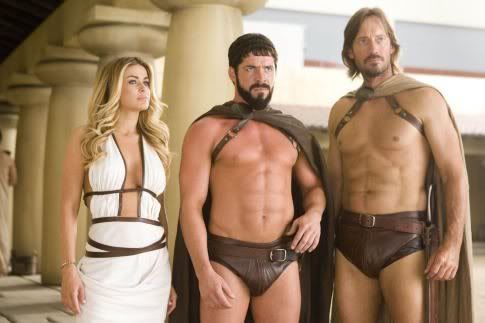 Meet the Spartans is a parody of Zack Snyder's adaptation of Frank Miller's 300, so much so that there's no need to do a plot synopsis here, as the narrative arcs of both movies are interchangeable. Love 300 or hate 300, the movie is ripe for parody. Big, buffed-out dudes with eight-packs bellowing about honor and glory as they fight with spears wearing only leather jockstraps. Lots of ostentatious slow-mo shots and dusty, sepia-toned CGI landscapes that kinda look like graphics from an old ColecoVision game. Yep. 300 could be the source of a really great parody.
Now that your caught up let me give you a quick summary of the movie,they're trying too hard.Meet the Spartans rates a "C-" and not a "D+" because there are a couple of good chuckles in the first part of the movie. I won't ruin them, as most of the good gags are already spoiled in the movie's trailers and TV ads. For the most part, the movie flops, because it doesn't trust its own material. When Persian king Xerxes makes his grand appearance, a voice-over informs us that "he looked a lot like the fat guy from Borat." Whereupon the camera pans up and shows us Borat co-star Ken Davitian made up like Rodrigo Santoro in 300. We're not allowed the moment of recognition that would have made Davitian's entrance funny in itself.
Nothing kills a parody quicker than jumping up and down and drawing attention to the fact that you're making a parody. Meet the Spartans takes a number of potshots at a whole bunch of current cultural mishaps, not just 300. That's well and good, but these potshots only serve to stop the movie dead in its tracks, thereby yanking the audience out of the movie and reminding them that they're watching a parody. The non-disaster-movie gags in Airplane! were quick and funny and didn't give the audience time to think before the next gag came. Meet the Spartans has a long, bust-a-move-filled sequence that lampoons flicks like Stomp the Yard and You Got Served. The sequence is too long, and it becomes an exercise in dead-horse beating. Sort of like how this review is beating the dead horse of a movie that won't last more than a couple of weeks in the theaters, but what the heck.
The best satires are actually pretty good examples of what they're satirizing. Strip the gags from Young Frankenstein and Blazing Saddles, and you got a decent little monster movie and a decent little western. It wouldn't take much to make a really great parody of 300. Maybe if you just recast the flick with puppets?
I gotta admit, I laughed more when I saw 300 than I did while watching Meet the Spartans. About 10 minutes into 300, with all the spears and bellowing, all I could think of was GWAR videos, and in my mind's eye, I saw Oderus Urungus, Beefcake the Mighty and all the rest slaying Persians. I couldn't stop chuckling.