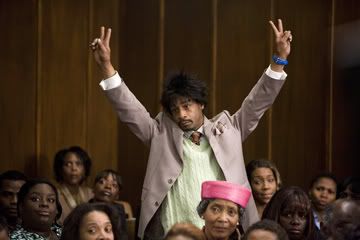 First Sunday, the latest movie from actor/producer Ice Cube, is the story of two down-on-their-luck friends from "the hood" - Durell and LeeJohn (played by Ice Cube and Tracy Morgan, respectively) - who, having fallen on desperate times, decide to rob a church. Sneaking into the church under cover of night, they're surprised to discover that A) the entire congregation has gathered, and B) the money that our anti-heroes have intended to steal has mysteriously already disappeared. The duo takes the congregation hostage, in an effort to find where the money has gone. What transpires are (in theory at least) hilarity and melodrama.
Director David E. Talbert, somewhat following in the footsteps of Tyler Perry, has been writing plays for a while now, and with no small amount of success. And, like Perry, he has now brought his talents to the big screen, to present an ostensibly spiritually uplifting comedy predominantly involving African Americans. Among other similarities, there's at least one woman in the cast who's played by a man (and this is done so with a questionable sense of irony).
The problems with First Sunday are many and profound, but the biggest offender is the movie's lack of humor. Too many scenes feel like skits that have been haphazardly conceived and sloppily jammed together. Cheap gender gags and over-eating jokes are apparently alive (but certainly not well) in Hollywood cinema.
Even if the movie isn't funny, perhaps it fares better in its desire to melt our hearts? Well… no. Melodramatic scenes, both cliché and preachy, are sprinkled in without a hint of accountability (neither in its characters nor in the storytelling). And there's no personality here capable of carrying this show. Ice Cube is bland as ever (though years ago I marked him as the best thing to come out of John Singleton's Boyz N the Hood), while Tracy Morgan is more obnoxious than we've ever seen him before. The rest of the cast is made up of stereotypes, so they're not much help.
The story itself fails because it's never, ever credible. Dishonest moment after dishonest moment rears its ugly head, ranging from the dumb premise, to the movie's one-note stereotypes, to its offhand suggestion that the pastor's sexy daughter would instantly develop an unquestioned crush on Durell. One of the acts that seem to sway the congregation's collective opinion for Durell is the apparent miracle of the church's air conditioning unit, which, following Durell's tinkering with the device, blows cooler than it has previously. Don't even get me started on the dishearteningly dumb courtroom scene at the end.
We're expected to believe that Ice Cube's character is exceptionally intelligent, but I guess we're supposed to accept the movie's occasional contention of such, despite the script's own evidence that he may be not very smart at all. The idea that he'd rob a church in order to keep his son's mother (ex-wife?) from moving to Atlanta is just one example of the guy's poor judgment. But then there's also the idea that Durell would maintain a life-long friendship with this blithering unbearable idiot LeeJohn, let alone allow LeeJohn to continue to exhibit such undue influence on any of his decisions. (And, by the way, it's not bad enough that we have one obnoxiously over-the-top character, there are in fact two of them here competing for the dishonor of damaging our collective last nerve.)
Presenting us with drama that lacks credibility, and comedy that's devoid of humor, First Sunday is another poorly-conceived, generally dishonest, and all-around disposable flick from producer Ice Cube.
I give it a 7/10