Unreal Tournament 3 (UT3) is a first-person shooter and online multiplayer video game by Epic Games and is the latest installment of the Unreal series after Unreal Tournament 2004. It is published by Midway Games and was released for Microsoft Windows on November 19, 2007, PlayStation 3 on December 11, 2007, and on Xbox 360 on July 3, 2008. The Linux and Mac OS X versions of the game are planned to be released as downloadable installers that work with the retail disc. As of June 2009, this is yet to be released. However, Ryan Gordon has uploaded screenshots of the game running on both platforms. Recently as a reply to a twitter post Ryan Gordon replied that the UT3 port for Linux was still being worked on.
Unreal Tournament 3 is the fourth game in the Unreal Tournament series and the eighth Unreal game, but it has been numbered in terms of the engine it runs on. The original Unreal Tournament uses the original Unreal Engine, while UT2003 and UT2004 use the Unreal Engine 2, and 2004 incorporates all of the content from 2003; therefore they are considered as the same generation. UT3 is subsequently part of the third generation, because it runs on the Unreal Engine 3, and does not reuse any content. In March 2008, Midway announced that UT3 had sold over a million copies worldwide.
With all that under way I just want to say that it is a phenomenal game also what makes you want to play more is the multiplayer. I don't think many people would be buying it if it wasn't for that. I wanted to chat online but I couldn't...because of the Bluetooth Device I have they claim that you can only talk with USB headsets
_________________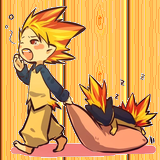 I'm
The
Sleepy
Quilava
Everyone knows that Quilava's real name is...
G
E
R
A
R
D