The Resistance - MUSE
meh because I'm meant to be doing my Methods presentation right now for presentation tomorrow, I think I shall procrastinate by writing a bit about THE RESISTANCE. I'm going to call it a review but it isn't really because.. I suck at English bahaha. anyway..
Album opener
Uprising
is what Supermassive was to Black Holes. A bit of departure from "classic" Muse - think synthy Goldfrappe with lyrics such as "They will not control us/We will be victorious!" Song has been out for a while and although the synth melody is a bit weak the strength here lies with the bass/percussion combo, its infectious beat that keeps your fingers snapping and your toes tapping.
Title track
Resistance
starts of with a Map of the Problematique-esque drum beat that's laced with piano. It's a hauntingly.. ghostly until the bridge kicks in. The 1984 lyric references don't even try to be subtle, and is comes complete with a massive chorus. Epic = very yes, very Muse.
After Teignmouth raided youtube, I was a bit iffy at
Undisclosed Desires
, but its very much grown on me. I think out of all of Muse, this is most influenced by modern mainstream RnB, probably a bit Nelly Furtado ish. I think it's the next single, and rightly so.
Then it's on the to outrageously bombastic
United States of Eurasia
. Starts off as piano, crescendos towards a Queen like chorus and throws in Arabian style strings. Actually I don't listen to Arabian music, but if I did I reckon that's what it'd (Arabian music) sound like. I would even say its just as ridiculous as Knights of Cydonia, but it works sooo so well. They even throw CHOPIN into the mix, as a mini interlude which works well after the superb quality of the first 4 tracks
Collateral Damage melts straight into
Guiding Light
, which is pretty much Invincible.. but better. I think out of all the songs though, this one is definately the most safest, has all the ingredients of Muse: soaring powering vocals, a pounding bass, your guitar solo (watch HAARP's version of Blackout.. and its that), kicking off with drums reminiscent of Apocalypse Please. Probably looking forward to seeing this one live the most
Out of all the previews,
Unnatural Selection
was what I was looking forward to most, and it definitely doesn't disappoint. Commencing with Arcade Fire-y organs, it quickly switches gear with a killer riff a la New Born part 2. Mixed with Citizen Erased, it calms down for a while but polishes off v. heavy. "No hope for fate/it's a random chance selection/I want the truth!"
MK Ultra
continues where Unnatural Selection finishes, past paced but I find it a bit generic, maybe because it's right after US. The ending riff reminds me a bit of Micro Cuts but still its decent.
Muse go on to
I Belong to You
which is a jazzy number, a bit Maroon 5's Makes Me Wonder. There's a bit of French, and a clarinet solo that reminded me of Damien Rice even though its no where near Damien Rice. I really like this. I imagine it won't be other people's cup of tea though. Heaps of classical influences on this one.
Finally: I get to hear the much hyped
Exogenesis
which is a three part symphony! however I must admit the FIRST one (Overture) is kinda disappointing. Its pretty much just strings.. and yeah. MEH. It kinda reminds me of Ruled by Secrecy, which I kinda extremely bland and boring. (im such a non-fan haha) Probably the weakest track on the entire album, but definitely picks up with part two (Cross-Pollination), which is something I'll probably learn how to play to impress girls lol. Im pretty sure it's an original composition too, which makes it all the more impressive. Part three (Redemption) sounds like Sigur Ros, which are another quality band you should all check out, and is such a beautiful way to close out the album. (also I should mention there are actually vocals on these tracks)
So there we go, THE RESISTANCE after the first few listens. Will probably amass many many more plays, and I can't wait to get my hands on the physical CD and more importantly TICKETS when they come out. To prepare I applied for a Debit card yesterday murhurhurr. In short, 10/10, recommended DEFINITELY and you should all join me in lining outside JB HIFI @ 9am on Friday!
see ya then
ps: I'm sorry I added so many older Muse songs as benchmarks when writing this so it probably made no sense to you much but i don't have a wide music taste
_________________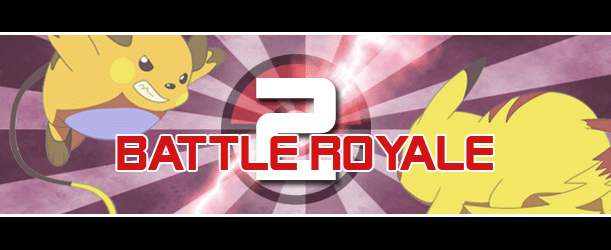 Sponsor a pokemon today to guide them through the knockout tournament! (2,000 Psybucks up for grabs)