Well, might as well start the first post here...
Okay, basically... i was sitting around in sunnyshore city... minding my own business, talking around and figuring stuff out... and i come across the daycare man. i talk to him and he tells me an egg was found with my pokemon. Relitively normal thing to hear after not playing a while right? So i go in to find out what 2 pokemon I put in there and find out they arent taking care of any of my pokemon... now im wondering what that old man was ranting about...
At this point i look in my party, and see only my Leafeon, my Shiny Umbreon, my Lucario, and my Shiny Giratina. no sign of any egg. shrugging this off, i run around for a bit just.... looking around for no apperant reason when im suddenly stoped by something hatching. well i see this little thing on my screen and THIS pops out...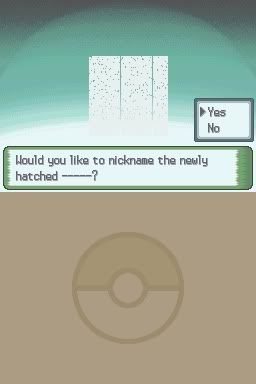 Im a bit bewildered by this thing. Now, decide not to name it, and figure out what it is... when i check my party, its not there... just my 4 regular pokemon...
[to answer this question beforehand i dumped my cartridge to the PC because I lack an action replay and thats how i got the screenshot...]
Okay, my question is this... WHAT is that thing. how did it get there, and WHY?